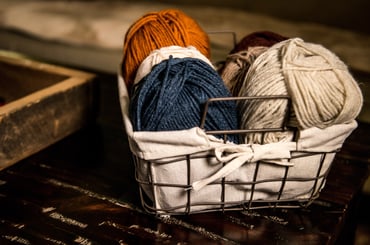 Knitting and crocheting go hand in hand as the most common yarn crafts today, and makers everywhere are choosing these hobbies as a fun way to create apparel, accessories, and home goods within the growing crafting community. However, now's the time to stop picturing your grandmother. She's just one part of a wide-spread network of knitters and crocheters of all ages, backgrounds, and experience levels. Keep reading for all the stats and insights that show how truly unique and diverse this craft segment has grown to be today.
Knitting and Crochet Statistics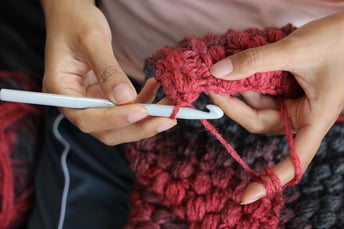 To begin, it's important to make the distinction between knitting and crochet as crafts. Though the two techniques have a lot in common, including materials and processes, here's the difference according to the AFCI:
Knitting is a craft where two straight needles are used to manipulate yarn or thread to create loops resulting in a textile or functional object (like an article of clothing).


Crochet uses a single, hooked needle for drawing a yarn or thread through intertwined loops to create a textile or functional object.
While the biggest difference between the crafts are the needles, the similarities between these crafts are many. Both knitting and crochet are ways of creating a fabric in certain shapes, colors, and designs by fastening loops and strands of yarn together in a line or tube. Precise patterns must be followed in order to create the desired garment or object.
But who are the people behind these yarn crafts? According to craft and hobby research collected by AFCI in 2016, we can understand who the average knitter/crocheter is, as well as the habits they all have in common. (For these statistics, only knitting and crocheting are considered. Other needle arts such as weaving, cross-stitch, and embroidery were considered a separate craft segment.) From AFCI's study, we know that:
28.8 million Americans participated in knitting and/or crochet in 2016.
The year, the crafts represented a market of $2.79 billion, with an average monthly spend per household of $20.57.
Knitters and crocheters are likely to also participate in other needle arts.
77% buy their supplies in a physical store. 4% buy outside physical stores, and 19% buy from both. (Remember, crafters are always researching new products online first, regardless of where they buy!)
62% give the items they craft as gifts. However, knit and crochet items are the most commonly donated crafts at 18%. 58% also keep their items.
While 18% consider themselves experts (one of the highest percentages of any craft) the other 82% rate their skills as beginner or intermediate.
71% of knitters and crocheters are female. 29% are male.
37% are employed full-time.
Like we mentioned, knit and crochet age ranges are fairly even across the board: 34% are 18+34, 36% are 35-54, and 30% are 55+.
2018 Knitting and Crochet Trends
To ensure you're serving your brand's target audience with the products and support it's actually interested in, having your finger on the pulse of the craft is a good place to start. While these yarn crafts are some of the oldest around, enthusiasts are constantly coming up with new ideas and transforming their designs in order to keep the craft interesting, modern, and in motion. Here are some of the top knitting and crochet trends of the year:
Knitting and Crochet as Hobbies and More
Knitting and crochet may perhaps be some of the slowest activities in the crafting community. Without the mess of paint, the pasting of paper, the sparks flying from jewelry smithing, or sawdust pile from a successful woodcrafting project, knitting and crochet might seem almost boring in comparison, but the reality is quite the opposite. Knitters and crocheters today are just as passionate about their work, but they're drawn to the activities because of their quiet, repetitive nature, not despite it.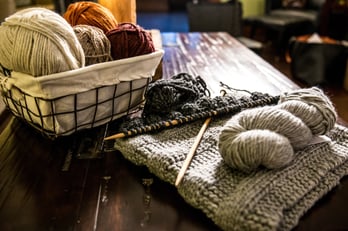 Yarn crafts are popular because they're portable (all you need is your needles, your yarn, and your hands), relatively low-cost to start, and output totally personalized projects that are meant to be worn, used, and enjoyed. The pattern-based nature of the crafts make them a great tool for de-stressing in multiple ways. On one hand, they can inspire focus and reflection, but once the motions become second-nature, yarn crafts also lend themselves well to social interaction with a group, too.
Knitting and crochet have a long history as protest art (we've even seen a resurgence of it in the past year), perhaps because of it's traditionally feminine roots, and the ability to talk and discuss ideas with a group while crafting. However, that's not to say knitting has to make a statement (and it's not just for women, either). The beauty of the quietness of yarn crafts is that hobbyists are able to create their desired environment around themselves as they settle in to add a few more stitches. Now that you really understand why knit and crochet are so popular in the craft world, it's time for your brand to become a treasured part of that personalized process.