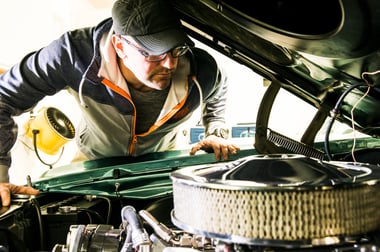 Close your eyes and picture an automotive enthusiast. Who and what do you see? It turns out that the real automotive segment today might look a lot different than you'd assume. As marketers, one of our most important tasks is to get to know our audience authentically. That way, we can structure our marketing strategies in ways that truly connect with our target audience's true wants and needs. So what does a true representation of today's automotive enthusiasts really look like?
While audience and persona research should be a deep and ongoing analytical process for your marketing team, a great way to start is with demographic research — the kind that helps you form an accurate mental picture of the people you're trying to understand. In this post, we'll share some of the most important automotive enthusiast demographics and statistics aftermarket brands should know in order to help you kick-start (or re-vamp) your understanding of your target audience.
Important Automotive Enthusiast Demographics and Statistics
Audience Demographics
Motivations and Confidence
Financial Statistics
79% do their own automotive repairs to save money, but an equally impressive 66% also genuinely enjoy automotive work in general.
94% of enthusiasts with improved financial situations still do their own maintenance work.
33% of enthusiasts report that doing their own auto work saves them over $1000 annually.
Auto Enthusiasts Growing with the Aftermarket
The automotive aftermarket has greatly expanded its offerings, both with products and informational content, in the recent decades. In fact, the automotive aftermarket was valued at $42.6 million by 2016 and is projected to grow to over $50 million by 2021. Behind that growth is the effort of the diverse and powerful automotive enthusiast community, but this passionate community can only develop with help from the aftermarket brands it relies on.
The internet has radically changed the way that enthusiasts, DIYers, and gearheads approach any automotive project. As the statistics show, access aftermarket parts via online retailers helped enthusiasts overcome the stock limitations of the traditional auto parts store. Additionally, the abundance of how-to guides and information, supplied by both brands and experienced DIYers themselves, has empowered even beginners to take on automotive maintenance, repairs, and upgrades with confidence.
The nation's cultural shift toward DIY has also led to a diversifying automotive enthusiast market segment. As auto DIY becomes more accessible and visible in or everyday lives and in online channels, automotive communities have become much more inclusive and connected. But without the continued support of aftermarket brands, this kind of growth could certainly plateau. It's your job as a supplier to also become a source of information and support that truly allows automotive enthusiasts to sustain and grow their passion.