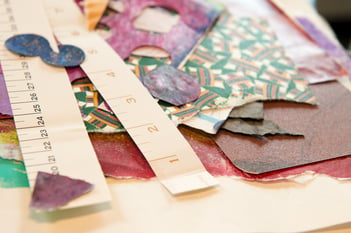 A new year in the craft industry means a fresh start, an opportunity to set new goals for yourself or your brand, and a host of new creative trends. Makers, crafters, designers, and more are passionate innovators who love to experiment and try new things in their art, whether that means testing new products or picking up a new hobby or craft entirely. According to Hobbycraft, a UK-based craft retailer that ships internationally, a new batch of crafts will make huge waves in the industry in the coming year. In this post, we'll break down Hobbycraft's 2019 craft trends to watch and give you some tips for keeping up with craft trends throughout the new year.
5 Craft Trends to Look for in 2019
As the UK's largest craft retailer, Hobbycraft is a great source not only for crafters but also for brands researching what supplies and techniques are growing in popularity. Hobbycraft sells products that help bring out anyone's creative side in a variety of craft segments from knitting to painting to slime-making. Recently, the retailer revealed its top predictions for crafts that may dominate the creative industry in 2019. Here are the brand's top picks:
Dirty Pouring: Dirty pouring is a painting technique that involves mixing a selection of acrylic paint colors in a cup or container and then pouring them over a canvas or other object for a bubbled and swirled effect. The resulting mixture of colors creates a messy but beautiful painting where colors mix organically. For many, the fun and unique process is a huge factor in trying out a dirty pour. The relative lack of control outside of choosing the colors also leads to completely unexpected finished projects that can't be replicated.


Calligraphy: We've written about calligraphy before and the huge growth it's already experiencing in the craft industry. Hobbycraft continues to rank calligraphy as one of the top crafts for 2019. The segment is only projected to grow with time thanks to its low barrier to entry, modern aesthetic appeal, and the abundance of lettering courses and workshops available from craft stores and independent artists alike.


Candle Making: Another traditional craft that's expected to make an even bigger comeback in 2019 is candle making. Homemade candles are great for personalized gifting and sell well at craft fairs because everyone can choose the scent that appeals to them. While the learning curve and supply sourcing processes might be a little more advanced for candle making, candles are a practical object that everyone needs more of once they're used up.


Pyrography: Pyrography, or wood burning, is the process of decorating wood with designs using a heated metal tool or point. Though the practice or burning instead of carving wood has been in practice for ages, pyrography is the natural next step in combining the trends of calligraphy, illustration, and woodworking today. Pyrography also presents a great entry point to woodworking for crafters who haven't crafted with wood before.


Wabi-Sabi: Wabi-Sabi (or kintsugi) is likely a craft you've seen before but never actually heard the name of. Based on the Japanese philosophy of finding beauty in imperfection, wabi-sabi as a craft is the process of filling the cracks in items like ceramics and textiles with gold paint, thread, or powder to turn their "flaws" into a beautiful pattern. Precious metallics have constituted a color trend for the past few years, and Hobbycraft predicts that various makers will incorporate the gold filling process of wabi-sabi into all kinds of projects in 2019.
2019 Craft Industry Predictions: Keeping Up Through the Year
While these trends might not be completely unheard of in the Maker Movement of the past few years, Hobbycraft's craft market predictions do forecast an uptick in popularity based on supply sales and industry analysis for 2019. If your brand serves the maker community with products, services, and educational resources, it's important to take stock of crafting trends as they come and go (or stick around, in some cases, like these trends from 2018). However, keeping in touch with trends should be a constant effort for your team, not just a yearly check-in.
In order to keep your content and product offerings relevant and useful to the audiences you serve, your team should monitor the popularity of craft trends throughout the year and then adjust your strategy accordingly. While researching trend reports are a great way to read the industry, it's also critical for your marketing team to stay in touch with makers directly. Social media, email, and other forms of digital outreach are amazing tools for connecting and conversing with real makers in real time to find out what they're interested in, what's falling out of style, and what problems they're looking to solve. Crafters make up a diverse market segment and love trying new things and experimenting. Trends may come in and out with the seasons, but your marketing efforts should do everything possible to keep up with the pace of the market.