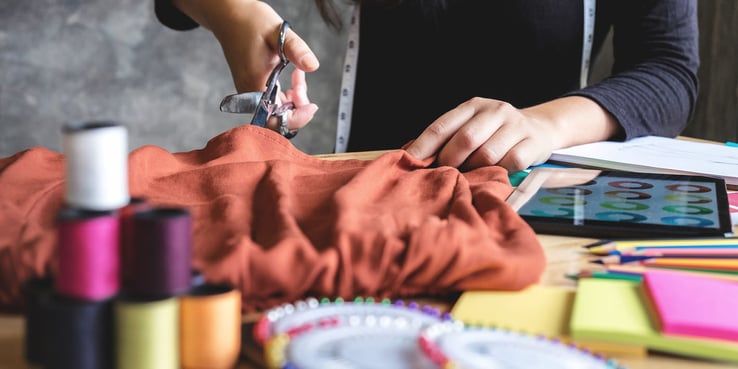 Makers who sew have a problem as of late — or maybe they've always had it. Nothing catastrophic or life changing, but a problem to be sure. These makers have struggled for years to come up with a name that fully encompasses everything they do. Let's call it a slight identity crisis.

Most maker subgroups have found their niche name. Furniture makers, woodcarvers, and turners all have "woodcrafter." Makers working with cars have "auto DIYer." Beer makers have "brewer." But where do people who sew, or people who make beautiful goods out of fabric or thread, fit within the diverse crafter segment? It's a question that has been asked by plenty of makers, including the ladies at Simple Simon & Company and Marcy Harriell at oonaballoona.
Terms in the Sewing Industry
quilter: a person whose hobby or profession is making quilts
couturier: a fashion designer who manufactures and sells clothes that have been tailored to a client's specific requirements and measurements
seamstress: a woman who sews, especially one who earns her living by sewing
embroiderer: someone who ornaments with needlework
textile artist: one who uses various techniques to create works of art using threads and fibers, sometimes in combination with paints or dyes
needleworker: a person who sews or embroiders with a needle
sewing enthusiast: a person filled with enthusiasm for sewing, one who is ardently attacked to the pursuit of sewing
clothier: a person or company that makes, sells or deals in clothes or cloth
[fashion] designer: someone who loves to study fashion trends, sketch designs, select materials, and have a part in all the production aspects of their designs
sewer: someone who joins, fastens or repairs something by making stitches with a needle and thread or a sewing machine
sewist: a relatively new term combining "sew" and "artist", do describe someone who creates sewn works of art, which can include clothing or other items made with sewn elements
So each of these terms in and of themselves are solid and descriptive of that particular niche. But what happens when you pull back, what happens when you try to fit all of these subcategories into one, overarching group? What do you call them then? What one term encapsulates all that this group does? Can you even fit it all into one term? Therein lies the issue that brands appealing to this maker group have run into.
We want to hear from you designers, couturiers, sewers, needleworkers, etc.! What do you want to be called and why? Take our super quick survey now or let us know on Facebook, Twitter, Instagram or LinkedIn!