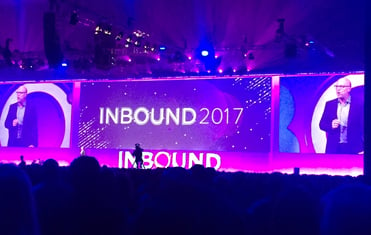 If you're into inbound marketing like us (and 20,000+ other attendees), Hubspot's annual Inbound conference is the place to be. We spent last week in Boston learning from other marketing and sales experts, communication gurus, and keynote speakers about all the latest trends and ideas in the inbound world. We got a welcome refresher on the best ways to use inbound strategies for ourselves and our clients, and some sessions helped put new ideas we've had into actionable words and concepts.
What is inbound? Check out our post that explains what it's all about.
Now, we want to pass along some of the most important details we brought back home with us from the conference. Keep reading for the top 7 things we learned at Inbound 2017.
9 Things We Learned at Inbound 2017 and Why They Matter
The Power of Stories: Lisa Gerber from Big Leap Creative taught us that telling a story carries much more weight than just facts and data — those things are important to back us up, but an emotional appeal with protagonists facing problems is what gets us discovered and builds valuable connections.


Create the Conditions for Creativity: Refinery29 founder and keynote speaker Piera Gelardi encouraged us to experiment with different environments, formats, and emotions to discover the best way to cultivate unique and authentic ideas. Setting and mindset matter!


Provide the Right Video Type: We learned that our video strategy should provide something of every step of the Buyer's Journey. Be fun and interesting to raise awareness and demand for those at the top of the funnel, provide valuable knowledge for those in the middle to buy into, and immerse those at the bottom in your culture and past experience to secure and delight them. (By the way, you can learn about the auto DIYer and woodcrafter's Buyer's Journeys here on our blog.)


Experiment with New Channels: Traditional inbound strategy advocates for driving all traffic,ultimately, to your website. However, when we heard the story of Hubspot's success with off-site publishing, which drove mobile traffic to an app instead, we learned the potential benefits of experimenting with less familiar content channels.


Give Up the Goal:

Improv comedian

Katie Goodman

advocates for the idea of letting yourself grow by getting lost. In improv, you don't know what's coming next, but it's important to build on your castmate's ideas by saying, "Yes, and." That's how you successfully move a scene forward. The same goes to adapting to change in our field or market instead of resisting it.


Consider Mobile-First Email: Marwa Greaves from Hubspot dropped this bombshell: 54% of all emails are opened on mobile. If that's the case, we should definitely be putting mobile considerations at the forefront of our email design.


The Formula to Ranking in Google: We learned that in order to improve SEO and rank higher in Google, three key elements need to be in harmony: crawlability (no hidden text), relevancy (being succicnt and specific in a uniform structure that's easy to skim), and authority (a combination of demand, timing, and intuitive accessibility).


Don't Be a Brand Zombie:

Julie Lellis

says zombie brands have no clear identity but they never fatigue in their aimless hunger and unclear motives. To ensure your brand comes across as authentic and human, embrace a consistent identity and match your values to your actions.


Speak Out: Former First Lady Michelle Obama advised in her keynote interview that everyone, espeically women, should be unafraid to make their voices heard. Regardless of how we may have been socialized, our voices matters, and embracing our unique voices makes us better leaders moving forward.