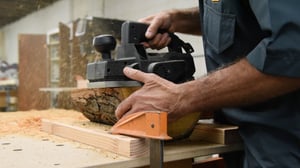 Just like any other maker, a woodcrafter can't get very far without the right tools and materials for the job. If you've ever been in a woodcrafter's workshop, or even their garage, you'll know that over time, most tend to collect a lot of tools. Some keep stock of things like wood, nails, glue, and more for their next piece. However, since so much of modern woodworking is project- or custom-based, makers don't always have every product they need on hand.
But how do they find the products that are the perfect fit for project after project? While every maker has slightly different preferences, most follow a general woodcrafter's Buyer's Journey to decide what to purchase. The Buyer's Journey framework helps us understand what potential customers need while deciding what to buy and the content that helps them move from one stage to the next. To learn what types of help woodcrafters are looking for at every step of their Buyer's Journey, read on.
Step 1: Awareness
In the Awareness stage of the Buyer's Journey, a potential buyer identifies the problem to be solved or the challenge to be overcome. For woodcrafters, this step translates to planning out what their end product should look like. In order to understand whether they are prepared to tackle the project, especially if it's something brand new, makers in the awareness stage tend to search for the relevant techniques they need to learn. They're basically asking the question, "Can I achieve this vision in reality?"
Custom woodworker Guy Capito told us, "Sometimes I go to Youtube when I'm trying to figure out something crazy. I saw somebody took an old door and turned it into a table in a bar. I wanted to do that, and the cross beams they have on there. I wasn't sure how to do that, so I started perusing through woodworking videos on Youtube and gave that a look."
Content types that help someone in the awareness stage include reference/inspiration visuals, how-to content, and walkthroughs presented by other makers or experts. It's important to note that many woodworkers also turn to their personal circles to ask for advice when they are unsure how to approach a new project.
Step 2: Consideration
During the consideration stage of the Buyer's Journey, a customer considers the possible methods for solving the problem — in this case, the methods and types of materials he could use to build the intended end product. The content that you provide for a woodcrafter in this stage should help him decide which is the best method to fit his skill level and the project itself.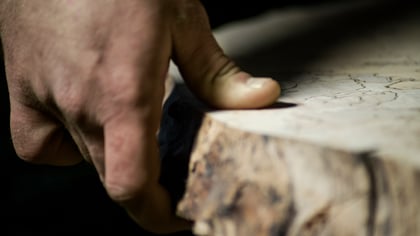 At this stage, content like step-by-step guides, lists of best practices, and discussions about different types (but not brands) of tools or materials help makers figure out the best way to carry out a project. For instance, a blog post about the best woods to use for a 'rustic' look would be helpful in the consideration stage, becuase it helps makers consider what materials they need before they're ready to actually find a company to buy from. Or maybe they need to know if it's better to use a biscuit joint or wood glue in a certain situation. Deciding on a method of work will certainly affect a woodcrafter's buying habits moving forward.
However, just becuase makers find a technique to pursue, that doesn't mean that they won't try something different if the technique doesn't work out. Trial and error is a huge part of a woodcrafter's everyday life.
Step 3: Decision
During the Decision stage of the woodcrafter's Buyer's Journey, the potential customer is finally preparing to make an actual purchase. At this point, makers are deciding which brands to buy from in order to get the type of materials and complete the methods they narrowed down during the Consideration stage. Something we've learned from the woodcrafters we know is that they look for the best quality for the best price when they're ready to buy (to learn more about the qualities woodcrafters use to evaluate a project, take a look at our recent blog post here).
As with the first two steps, a woodcrafter's buying habits are largely influenced by the information they're able to search for online and get from other makers. Recommendations mean a lot to these makers, so the content that helps them make their final purchase decisions includes product reviews, comparisons, and case studies that evaluate products that work (and perhaps ones that didn't, too). These types of content help a potential customer find the product that's the best fit for the project and the brand they want to start building a relationship with.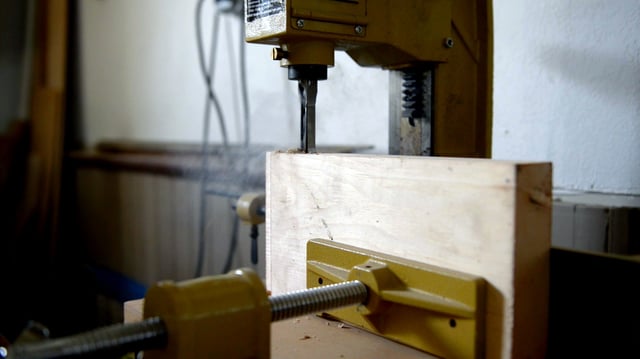 How to Use the Woodcrafter's Buyer's Journey
The Buyer's Journey framework is one of the most important elements you need to know in order to create genuine connections with your target audience. While it's incredibly important to know who woodcrafters are and what they do, the key to communicating with them is providing the information they actually need from you, not just bombarding them with interrupting advertisements long before they're looking to buy. Instead, creating a relationship by adding value to a maker's process is the way to go. By studying the woodcrafter's buyer's journey, you can be sure the content that you offer provides something to move potential customers from each stage to the next, building trust in your brand until they're ready to buy your product. In our experience, if you support a maker in his work, there's a much greater chance that he'll support you in return.