By now, you've likely already heard or read about the importance of the various pieces in the "content puzzle".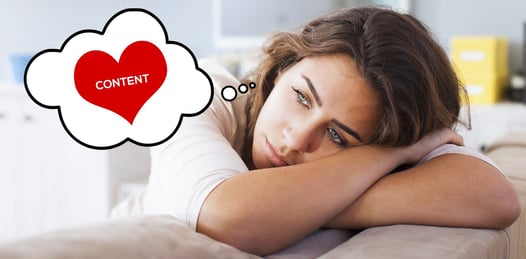 Your content needs to be optimized for SEO to attract potential customers searching for answers to questions. You've also got to distribute your content through appropriate social media channels. Your content should feature enticing calls-to-action and landing pages to turn visitors into leads. Technically, all of these pieces are incredibly important and we should pay attention to them if we want our content to work for us. Of course, underscoring all of the technical stuff, we should be creating content that actually matters to our target audience. But if you want to take your content further, the question you should be asking yourself every day is: Would your audience miss your content if you stopped publishing it? If you can truthfully answer yes to that question, you've got the potential for a loyal audience. If your company isn't quite there yet, you just haven't found your hook.
In the blog post that follows, we'll discuss why it's important to have loyal subscribers (not just a lot of them) who look forward to consuming your content and we'll also list a few examples of creators with a dedicated audience that keeps coming back for more content. So let's go.
Is Your Audience Anticipating Your Content?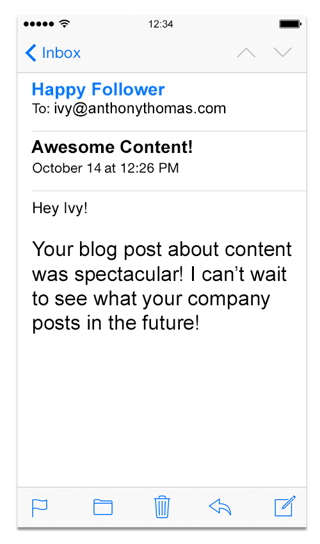 That's another way to phrase that pressing question we posed above. The term "content anticipation" has been kicked around in content and inbound marketing circles for a while now, though it never gets the spotlight it deserves. Has any member of your target audience ever sent you an email asking when you'll be publishing your next blog post? Have any of your social media followers ever sent you a PM or posted something to your page telling you they look forward to your posts? Imagine how powerful your content would be if it was so good that members of your audience actually looked forward to getting it.
The reasons for wanting an engaged, loyal audience that eagerly awaits your content are rather obvious. Beyond the niceties of being seen as a thought leader or potentially having expert power in your field, this loyalty and trust that you earn with your audience is a good indicator of their willingness to share your content, whether verbally, physically, or digitally. And, of course, any time your content is shared earns you more brand awareness (for "free"). Think of the times that a friend shared a particularly good piece of content with you and you sought out more information about the author or the company that created it to see if they had anything else that was just as good... that's what we're talking about.
One not-so-obvious reason for earning this loyalty is that it demonstrates that certain members of your audience actually understand your brand, your company, what you are trying to do and how you're able to help them. Not only are these audience members more likely to reveal information about themselves (which will allow you to assist them better), but they will also be the ones that help protect and defend your brand reputation — both in the digital and physical space.
So how do you know if your audience is actually anticipating your content? Usually, we think we've achieved this lofty "content creation nirvana" when we see our subscriber numbers increase. These numbers could be email newsletter subscribers, blog subscribers, social media followers, or others. That feeling of seeing these subscriber numbers increase can be kind of addictive. However, as tempting as it is to feel satisfied when your subscriber numbers rise, please don't let yourself get too carried away. The quantity of subscribers doesn't necessarily indicate the degree to which they are actually interested in you or if they're actually anticipating your content. Instead, take a look at the following data points: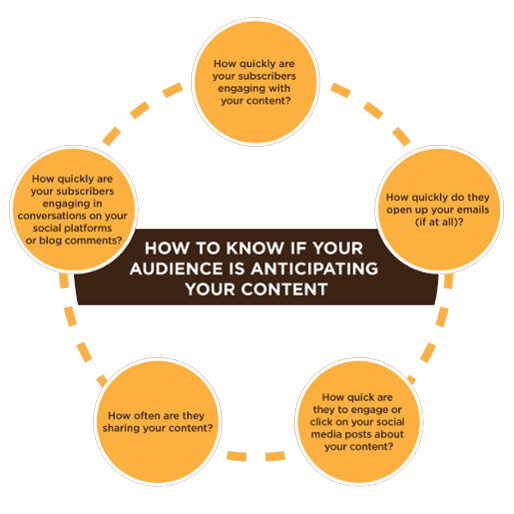 How quickly are your subscribers engaging with your content?
How quickly do they open up your emails (if at all)?
How quick are they to engage or click on your social media posts about your content?
How often are they sharing your content?
How quickly are your subscribers engaging in conversations on your social platforms or blog comments?
These data points reveal your subscribers' the level of interest in your content and, while they won't be as sexy (or as large) as your total number of subscribers, they are far more interesting in terms of how good your content is. (There are many tools — particularly Inbound Marketing tools like HubSpot — that will give you visibility to these data points and much more)
Creating Content that People Actually Miss or Anticipate?
Is creating content that people actually miss (or anticipate) easy to do? Absolutely not! It's difficult and still rather rare. In fact, even though more and more companies are opting for an inbound approach to marketing — attracting their target audiences by creating and distributing helpful or entertaining content instead of just trying to sell them something — you'd think that what we're seeing on the internet should be increasingly helpful and useful to all of us. Unfortunately, this isn't the case. In today's digital marketing ecosystem where "content" has become more of a buzzword than what it aspires to deliver, oftentimes companies try to shortcut their way to and through content creation in an attempt to meet their their "business goals". So instead of doing the work of truly getting to know their target audience on a deeper level so they can create content that's actually useful to them, they make assumptions about their audience and create content that, while technically spot on, is neither helpful nor engaging. Or they set forth to create a ton of "content" in the hopes ranking for every possible keyword on Search Engines, that they shortchange the quality or usefulness of that content.
At the end of the day, creating useful, impactful content is not easy and getting results from your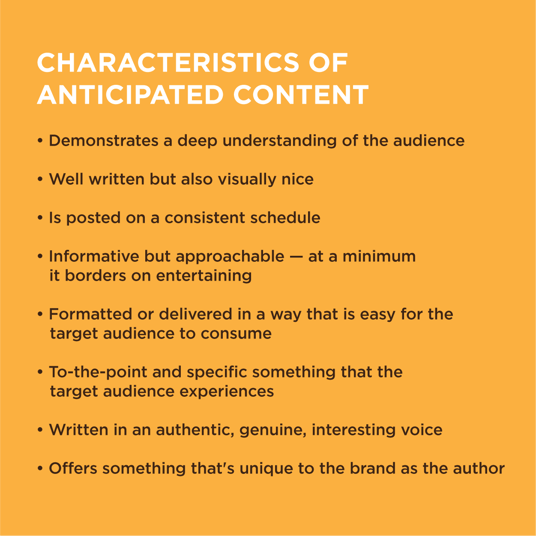 content creation efforts can't be shortchanged. Better said, if your content is crap, it won't have the effect or deliver the results that you want. Generally speaking, anticipated content exhibits several of the following characteristics:
first and foremost, it demonstrates a deep understanding of the audience
it's well written but also visually nice to look at
it's posted on a consistent schedule
it's informative but approachable — at a minimum it borders on entertaining
it's formatted or delivered in a way that is easy for the target audience to consume
it's to-the-point and specific something that the target audience experiences
it's written in an authentic, genuine, interesting voice
it offers something that's unique to the brand as the author
This list isn't very specific, is it? Yeah... we know. The reality is that while there are certain characteristics that distinguish good, effective content from poor, inefficient content, there is no magic formula for creating content that people actually look forward to. The best advice we can offer is get to really get to know your target audience and then be as authentically "you" as possible in trying to altruistically help them solve their problems or address their needs. If you're quirky, be quirky. If you're cool, be cool. Don't try to be something you're not. Be true to yourself and your brand and it will come across in your content. You can always take a look at the content you personally anticipate and why you love that content. Is it because of the interesting angles taken on otherwise bland subjects? Is it the tone of the writer? Is it something else entirely? Considering what other brands are doing that hooks you and see if you can find your own niche or hook. In the next section, we'll look at some concrete examples of brands that have highly anticipated content that might be a source of inspiration.
Examples of Highly Anticipated Content
HubSpot: In the spirit of full disclosure, ATA is a HubSpot Agency Partner — but that doesn't bias our opinion in this case. Can we get a round of applause for what might be the highest performing marketing blog on the web? HubSpot, the premier inbound marketing company, publishes multiple blog posts every single day. The brand is also an expert at leveraging old content when circumstances make it relevant again, and all of HubSpot's social media profiles are active, too. As an agency, we get HubSpot's blog newsletter delivered to our email each morning, and I have to admit that I've sat staring at my empty inbox waiting for it more than once. Over 300,000 marketers and business owners subscribe to HubSpot's marketing blog, and we're willing to bet that it's not only because they publish a lot of content. Every single one of Hubspot's posts makes marketers better at what they do. There is no filler content to be found, and each post contains calls-to-action to direct readers to more information. Finally, with its large bank of contributors, HubSpot's blog offers a variety of enthusiastic voices from the marketing world and beyond, and every single one exudes a desire to help businesses flourish.
The Onion: Ever see a headline on Facebook that seems too crazy to be true? Well, in 2016, maybe it was true, or maybe it was The Onion. Touting itself as "America's Finest News Source", The Onion is the undoubted king of its niche — satire news articles. The publication covers topics from current events, popular culture, and the shared human experience from a comical perspective. Even though the headlines are made up, they're based on real life, so perhaps it's the blending of fact and fiction that keeps The Onion's digital audience hanging on its every word. While the satire might be over the head of your great aunt on Facebook, there are readers who consider The Onion a more reliable source of news than real newspapers or network television. The Onion's articles represent different stances on the issues facing our world (even if that issue is the morality in fantasizing about a better sandwich than the one we have). Comedy is difficult to do well, but The Onion's audience has learned to anticipate no less than the best.
The Late Late Show with James Corden: Late night talk shows are having a bit of a renaissance at the moment. In a landscape that already included Fallon, Kimmel, Conan, and Meyers, British newcomer James Corden had a big task ahead of him. In carving out a unique slot that distinguished his Late Late Show from the rest of the midnight lineup, Corden found immense success in sharing his content on the web (and even creating some web-exclusive content). Corden, who was already known especially in the UK as a multi-talented performer, and his creative team have quite a knack for conceptualizing one-off games and sketches to showcase the program's celebrity guests. However, Corden's audience's biggest anticipation is always the next revival of his recurring segments. Certainly, Carpool Karaoke has become Corden's trademark. Corden invites various artists out for a drive, and the pair (or group, occasionally) belt out some of the guest's hits or other favorite tunes. From Britney Spears to Lin-Manuel Miranda to Michelle Obama, each Carpool Karaoke video has gone viral. Corden's audience members always have an idea of who should be in the passenger's seat next, and they can't stop tuning in to see if their wish is granted.
Vlogbrothers: The cross-platform creators of Vlogbrothers have been building an online audience (read: community) since they began posting YouTube videos in 2007, and it keeps getting bigger and bigger. The elements of community and inclusiveness are the very cornerstone of the Vlogbrothers' various projects, and that's what has given their brand such a die-hard audience. Best-selling author John Green (The Fault in our Stars, Paper Towns, and more) and his brother Hank Green started making videos to see how text-free communication would affect their relationship. By choosing to make the videos public, a grassroots audience who enjoyed the Vlogbrothers' mix of comedic and informative content helped the project gain popularity. Today, the Vlogbrothers host a podcast, sell merchandise, fundraise massively for charity, produce companion YouTube series on various educational topics, and host multiple conventions while still posting one video each per week. The candid nature of those beginning videos endeared the Vlogbrothers to a base of viewers that has never slowed in growth, and John and Hank's genuine passion for creation and innovation has led them to new endeavors that their loyal audience is more than willing to embark on alongside them.
Old Friends Senior Dog Sanctuary: For so many dog lovers out there, Old Friends Senior Dog Sanctuary is an insanely popular online source for daily dog photos and stories. Old Friends is a foster home for older dogs who face a higher rate of euthanasia in shelters because of low adoption rates. The folks at Old Friends made it their mission to give as many senior dogs a high quality "retirement" in a forever home. While Old Friends does have a central website, most of the content that its audience anticipates comes through social media. The people at Old Friends post numerous photos of the dogs to their Facebook page daily, allowing their audience to get to know each dog's personality in depth. However, beyond the adorable dog updates, the Old Friends Facebook page offers something more. In a time where we see so much conflict online and comment sections can be a horror to scroll through, there is nothing but support and positivity on the Old Friends page. They might come for the dogs, but the purity of the conversation in the comments is a huge part of the audience's anticipation.
Turn Your Subscribers Into Anticipators
Having a huge number of subscribers (to your blog, your social media, or otherwise) is a good metric to keep track of, but there's one big question a number can't answer for you: Would your audience miss your content if you stopped publishing it? We all know that inbound marketing deals heavily in content creation and distribution to drive traffic where we want it most, but if your content is only there to add pages to your site or posts to your profile, your engagement won't be nearly as high as you'd like it to be. Your content needs to not only contain top quality, but it needs to be something your audience is yearning to read again and again.