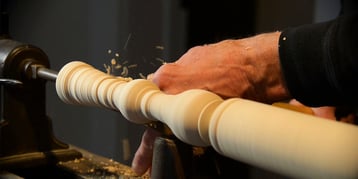 The US furniture market is worth an estimated $96.4 billion annually. But today's small business furniture makers face a daunting task: to revolutionize a stagnant industry filled with big fish and impossible odds. It's a Herculean task to make high-quality, affordable and accessible furniture that stands out in a crowded and ever-growing market. Today's woodworkers make up a huge percentage of the funiture making segment.
Curbed recently spoke with furniture owners and designers about the difficulties and challenges of making furniture in today's market. Most of the challenges stem from the ability to stand out and be successful in an overly populated market. Let's take a look at some of the issues facing today's furniture makers.
Top Furniture Maker Challenges
Being Able to Stand Out in a Crowded Market
Furniture designers have to constantly contend with bigger companies and industry giants knocking off their designs for a cheaper price point. So how do smaller makers stand out in an already crowded market?
"The number one thing we try to push is that our furniture is solid hardwood that you may or may not be able to get in other places," Hayes Shanesy, of Brush Factory (a Cincinnati-based furniture maker), told Curbed. "It's locally harvested from Indiana, just one state over. It's more an heirloom piece, different from something you'd pick up at a different retailer. It's all in the eyes of the beholder, but the stuff we make is made to last, no doubt. It's not made the way old-timers did it a hundred years ago, but it's damn close. Being a local product goes a long way. People are pretty interested about that at the moment."
Creating High Quality, Yet Affordable and Accessible Furniture
Americans want high-quality, locally made furniture at a low price point. That's a really tall order to ask of furniture makers. There needs to be a shift in the mindset of this country's consumers. Just like with the clothing industry, you can't have it both ways. You can't have high-quality goods at a low price point that are both made locally and ethically. Something has to give. And that something is going to have to be the way Americans view quality and the retail landscape. Understanding that locally made, high-quality furniture comes at a cost is the first step to bettering our local businesses and economy.
Competing Against the Big Boys
The furniture market is so saturated with big name companies, it's a constant uphill battle for small business furniture makers. In addition to the challenge of name recognition, small businesses face the issue of expensive shipping costs for customers, a problem big businesses don't have to contend with. Typically, a small business has to charge for shipping in order to stay afloat, and that can sometimes be almost 15 percent of the purchase price.
Paul Vaugoyeau, of Hem, a Swedish online modern furniture retailer, explained to Curbed how Amazon subsidizes shipping. "They already won that race. They pay for shipping, which companies like ours just can't do. When you buy on many sites and then see the shipping cost added for a piece of furniture, it can be a real bummer. If you want to ship from a warehouse in Pennsylvania to Miami or San Francisco, it can end up being 15 percent of the cost of the product."
Jason Horinger, designer and owner of Birchwood Supply Co., has been keeping an eye on the maker movement for years now. "When I started the business, all I wanted to do was bring value to people; I loved that. I'm seeing a huge shift happening with people, a return to an authentic lifestyle: knowing a maker, knowing where things come from. The box stores have a purpose and that's great, but there's been a detachment there for so long, and that's significant."
Scaling to Get Customers
Another issue that small business furniture makers have to contend with is being able to successfully scale their business. That's difficult to do when big box stores are able to offer free shipping and lower costs on most items and small businesses aren't.
Derek Chen of the Council Design explained to Curbed how scaling can be the death of a small company. "Scale is a killer. It's really hard to achieve the scale you need to succeed. If you're Herman Miller or Ikea, you can probably make something for a tenth of what it costs me, I imagine. It's more expensive to make 50 chair bases than 1,000 chair bases."
Windsor chair maker Richard Grell knows his chairs aren't cheap, but he also knows how much time and love goes into creating his Windsor chair to create a quality, long-lasting piece of furniture. "I think the most rewarding things that I encounter are the people I have met that have put their confidence in commissioning me to build them something. The pieces that I make with my hands, taken just from a log, become part of their home, their family, their legacy in passing on my work. I've had my work be passed on for generations or end up in estate sales and auctions. It's always interesting to follow. Once you've made something with your name on it, it's out there, barring a fire or something. And the way I make the chairs, they never come apart, so people are going to use them as chairs for long after I'm dust."