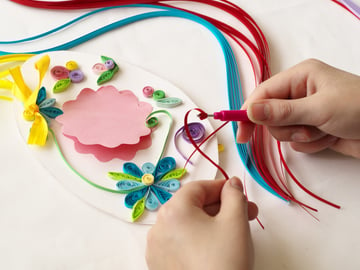 The social internet has completely revolutionized the ways that today's makers find and purchase the supplies they need for their craft. For paper crafters like scrapbookers, card makers, and calligraphers, gone are the days of just making do with whatever's available in the craft aisle. Now, thanks to accessible online shops and resources, paper crafters can find the exact papers, pens, and other tools they need with just a few targeted Google searches. But how do they narrow down the selection and decide where to buy?
Using the Buyer's Journey framework, we can outline the types of searches your brand needs to show up in to make it into a paper crafter's next project (and shopping cart). In this post, we'll explain what the Buyer's Journey for paper crafters might look like and how it can inform your content strategy.
The Big Picture: The Buyer's Journey Framework
The Buyer's Journey framework is a process that outlines the steps an average consumer moves through when deciding to purchase a new product or service. According to the Buyer's Journey, consumers generally follow a three-step journey before a purchase:

Awareness Stage: The consumer asks questions that helps identify their need or issue.


Consideration Stage: The consumer uses search and recommendations to compile a list of possible options or solutions to their need or issue.


Decision Stage: The consumer researches and compares the options and uses this research to choose a solution and a provider to purchase it from.
While this framework is a great starting point for understanding how paper crafters source new products, keep in mind that each maker's particular process will differ slightly. However, hypothesizing which questions your target audiences will ask during each step of the process will give you a strong basis to build your content strategy on.
An Example Buyer's Journey for Paper Crafters
For paper crafters in particular, the Buyer's Journey would look a lot like this:
Awareness Stage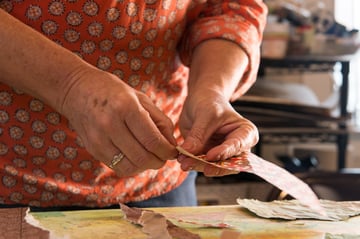 Paper crafters in the awareness stage can be in a variety of situations. On one hand, they could be researching what materials they might need to start a new project. They could also be attempting to figure out how to achieve a certain design or effect. Alternatively, they could be interested in replacing a tool or material that's not working with their current process and working to identify how a new tool could solve that issue.
During the awareness stage, crafters would benefit from tutorial resources where they can see someone else's process and compare it to their own. They could also be searching for troubleshooting guides, beginner guides, and other project specific content that will help them identify what would fulfill their need or solve their problem.
Consideration Stage
Once a paper crafter has successfully identified what supplies or solutions they need, they move into the consideration stage of the Buyer's Journey. During this stage, they use search and recommendations to compile a full list of possible product options that they could potentially buy to solve the issue. When creating their list, crafters will also take into consideration which providers and retailers they can purchase from.
During this stage, many crafters rely on search engines like Google to help them see what products are available on the market. They may also look for tutorial content that shows what products different makers use to achieve their desired result.
Decision Stage
Finally, during the decision stage, paper crafters will compare the items on their list and choose which product they want to buy and from which provider. According to their own personal criteria, which may include price, quality, design, packaging, and more, the makers will weigh their options and judge which product will best fit their process and serve their project's needs. The decision stage is a heavy research stage as paper crafters will use whatever resources they can find to understand how each different product option works before buying.
During this stage, paper crafters will turn to content like customer reviews, demonstrations, case studies, and product comparison posts to understand the differences between their product options. Armed with this information, they can decide which product is best and either order it online or plan to pick it up in store, depending on their personal preferences.
Building Brand Awareness During the Buyer's Journey
Depending on how wide or narrow your paper crafter target audience is, the questions your potential customers are searching during the Buyer's Journey could be more specific or general to their craft. However, understanding the basics of the Buyer's Journey means more than just understanding what your ideal customer needs. That's certainly part of it, but what you do with this information is what will make the biggest difference in your content strategy.
By making educated guesses about what topics your audience is searching for, you can generate content ideas that are directly tailored to serve your audience's needs. By providing them with the research they need during each stage of the Buyer's Journey, you're creating multiple opportunities to share your story and your products with potential customers who may or may not know about your brand. By simply being present and being helpful during their search, you'll increase your brand awareness and present your brand as a leader in the industry. When you can offer your potential buyers the information they need to make better choices and improve their paper crafting projects, they're much more likely to choose you during the decision stage and in the future.