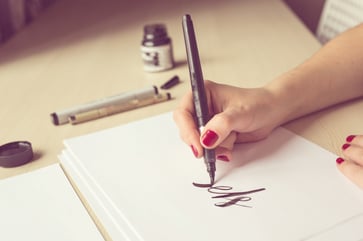 Paper crafters are as well-connected today as any other craft segment: they love to meet and share ideas, check out new products in their market, and attend classes and events to learn more about their craft (as well as to support and buy from other makers). And on top of all of that they're continually active on and empowered by social media and all the information they can find there. Access to resources, opinions, and answers to their questions on social media is one of a paper crafter's most valuable lifelines.
When your brand is ready to get involved in the social media community surrounding scrapbooking, card and print making, calligraphy, and more of today's paper crafts, you should know what types of content and interactions those makers are looking for when they log in. In this post, we'll explain the relationship between paper crafters and social media and give your brand some advice for jumping into the conversation as well.
How Paper Crafters, Scrapbookers, and Calligraphers Use Social Media
Create a presence for their brand. In today's Maker Movement culture, many paper crafters have spun their hobby into a small business. Social media, due to its wide reach and relatively low barrier-to-entry, has become most makers' favorite way to show off their work and build their brand's public image. By sharing photos, videos, and captions that introduce both their paper crafts and their own personality, a large percentage of crafters spend a large portion of time on social media curating an aesthetic that potential customers can connect with, remember, and generally enjoy.


Join groups and start conversations. Social media also provides crafters the opportunity to connect with other crafty folks both in their own communities and across the globe. By joining paper crafting, scrapbooking, or calligraphy-themed Facebook groups, crafters are able to share tips and tricks pertaining to paper products and techniques. Additionally, they can ask for help overcoming the challenges of paper crafting or running a business, gauge interest in local craft markets and events, and even buy and sell paper crafting supplies, print outs, and patterns. Some groups are specific to a certain craft or even a certain tool.


Get inspiration and stay updated on trends. Paper crafters use social media as a way to stay consistently updated on trends in the industry, to learn about new products and project ideas from the brands they follow, and to benchmark their work against the work of the creators and influencers they look up to. This aspirational content helps them come up with new ideas for projects 0r ways to improve their crafting process, as well as allowing them to stay motivated toward their paper crafting goals and ideals. Keeping up with trends using social media also helps them stay connected to the paper crafting community and participate in more discussions with other makers.
Making Online Connections With Paper Crafters
While modern paper crafters, card makers, scrap bookers, and even more niche creators are filling the digital space with their own content and conversations, there's no reason why your brand can't get involved with your target audience in the same channels. As with many other maker segments, Instagram may be the most popular social platform for paper crafters, followed by Pinterest, Facebook, YouTube, and more channels that allow them to share stories, advice, and beautiful imagery that speaks to their creative taste. Therefore, the first rule of thumb for brands that want to enter the social space with makers should always be to make your content and conversations as similar to the ones makers are already sharing among themselves.
In order to get an idea of the types of posts, videos, and discussions your target audiences are already sharing on social media, it would be helpful for your team to start by browsing and analyzing the most popular hashtags within the paper crafting community. According to Crafting Fingers, the top hashtags for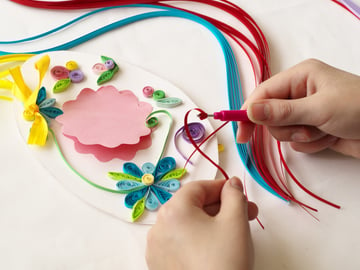 paper crafters on Instagram include: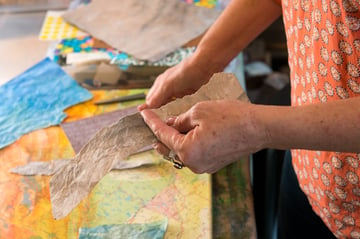 #handcut
While learning how and where to connect with your specific target paper crafter audiences might take some research, trial, and error, the most important facet of your social strategy should always trace back to authenticity. Instead of constantly pushing product and focusing on selling, the best way to create genuine connections with today's paper crafters is to focus on educating and helping your target audience to inspire their trust and support.