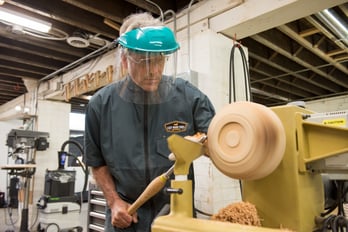 Whether they've been working with wood for one year, fifty years, or even more, all woodcrafters can still improve their skills with the help of the right resources and a little practice. From our experience talking with woodcrafters, the majority prefer to learn from someone who's been in their shoes — who understands their challenges and think, talk, and work like they do. Whether it happens early or late in their lives, woodcrafters benefit from finding a mentor to look up to. Sometimes it's a family member, a local craftsman, or a teacher. But believe it or not, your brand can become that mentor, too.
Being a mentor simply means acting as a source for information and advice that comes from your experience in the craft. In this post, we'll outline some steps you can take to become the trusted mentor today's woodcrafters are looking for.
Ways to Become a Mentor For Woodcrafters
Establish (and share) your expertise. Using all touch points of your brand

—

most critically, your website and social media presence

—

to present yourself as an expert in your field is key to becoming a worthy mentor. Whether it's the number of years you've been in business, your commitment to innovation, or other factors, it's important that your target audience perceives your brand as knowledgable. Then, create and share content in the most appropriate formats that answers questions and teaches new skills. Your expert power gives you the authority to do so genuinely.


Prove that you know your audience. Show that you know what matters to real woodcrafters by responding to trending topics as well as age-old challenges in your content. The best way to get to know woodcrafters is by talking to them and creating the connections that inspire your next content offering. You can provide real value to your audience's process by showing your solutions in action and in the hands of a real crafter. Additionally, your content should aim to educate, not sell.


Get to the point. Woodcrafters are looking for small, digestible tutorials (especially videos and photo guides) that focus on a specific issue or skill. Rather than asking your audience to search for the information they need, packaging it up in the most direct way possible provides more value to your audience while helping you appear in specific online searches, too. If you're presenting a detailed tutorial, consider chapterizing or breaking the steps into a series of shorter chunks.


Consider multiple skill levels. Unless the products and materials you sell are incredibly specific to either beginner or expert woodcrafters (and we imagine most products are not), it works to your advantage to create content that appeals to a wide range of skills levels. Novices and expert crafters experience different challenges and ask different questions; be careful of over-categorizing your audience, but also be sure you're giving advice that addresses everyone's specific needs.
The Importance of Mentorship
Having a mentor in any craft or industry provides the benefits of inspiration, support, and understanding. Woodcrafters love what they do, and they want to be part of a community of like-minded makers. For them, finding a mentor adds value and joy to their process and plays a major role in developing crucial skills. Beginners can learn the basics from their mentor, and experts can keep up with cutting-edge techniques and tools. But acting as a mentor is also incredibly valuable to your brand as well. By sharing your experience with those who need it, you're providing an opportunity for your customers, past and potential, to learn more about your brand and build a connection that can lead to loyal purchases.