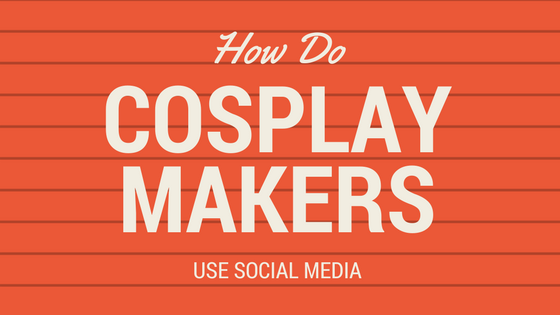 With social media at our disposal, it's easier than ever to find like-minded people, even when it comes to our most uncommon interests. One group of makers that relies heavily on social media to make connections is the community of cosplay costume makers. The industry for cosplay is growing, and it can be fun and convenient for cosplayers to interact with other makers across the city or across the globe using social media - but there's not just one way they do so.
So, how do cosplayers use social media? In this blog post, we'll explain the three main ways: for conversation, research, and self-promotion.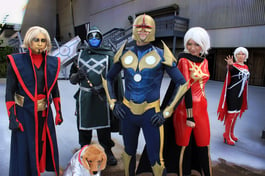 Are cosplay makers are among your brand's target segments? Check out our summary of what brands should know about cosplay makers to learn more about creating authentic connections with this powerful and influential audience.
Cosplay Makers Join Conversations
As you probably already know, cosplay is a bit of a niche interest. While it's a huge part of Japanese culture (to the tune of at least $500 million a year), the activity is still growing towards larger recognition in the United States. In that light, social media is the most convenient tool at a cosplayer's disposal for meeting people with similar interests, both nearby and across the globe. To find groups who understand what they're going through and who are excited to discuss their passions, cosplay makers turn to social media networks like Facebook, Instagram, Tumblr, and more. They also share plans and goals before a convention to coordinate with friends and stay on schedule.
Cosplay Makers Learn More
Cosplayers are always looking forward to their next project and coming up with new ideas to try. When they plan any type of element that's different from what they've done before, however, they tend to ask a lot of questions before diving in. To help cosplayers carefully plan and effectively execute their craftwork, social media has become a great resource.They also research to find inspiration for new characters to play or techniques to master by looking at the work of others. They love to share their knowledge to help other creators succeed. As we've written about on our blog, cosplayers often spend hundreds of dollars on their costumes, so they want always want to improve their skills.
Cosplay Makers Promote Their Work

Finally, we know from our conversations with cosplay costume makers that they enjoy their creative process, but it also means a lot when someone recognizes their hard work. While most aren't just fishing for compliments, they use social media to show off the work they've done. Some share through their personal profiles while others prefer to create individual pages just for sharing their costumes. However, some have taken promotion one step farther in light of growing opportunities to be paid for their work. While some controversy has followed the rise of cosplay "celebrities," demand for internet content has allowed some cosplayers to make a little extra cash through sponsorships, photos and prints, live appearances at conventions and other events, costume commissions, tutorials, and more. To turn their hobby into a financial opportunity, however, most cosplay makers need to amass some sort of following to support them, usually through social media.
The Value of Social Media in Cosplay Communities
What we know about cosplayers is that their work is never done. There's always another convention to attend, another idea for a costume to bring to life, and more skills to learn. However, while a large percentage of them are making costumes on the side, we see how locking themselves away to sew and forge and thermoform during their spare time could easily get lonely. With social media, they can accomplish all this at once; they can get better at what they do, and they can form friendships and partnerships that make costume creation all the more fulfilling and fun.