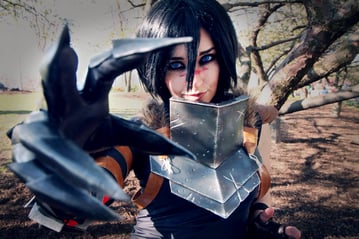 Cosplay and Halloween have one obvious thing in common: the costumes. But while Halloween is a seasonal celebration (with a lot more candy involved), cosplay is a year-round hobby that stands for a lot more than just dressing up. However, that doesn't mean that cosplay makers don't make the most out of Halloween (it is the most culturally acceptable time to dress up as someone else, after all). Some cosplay makers use Halloween as a great occasion to create new, impressive costumes to show off and enjoy.
But in order for your brand to make genuine connections with today's cosplay makers, you need to understand how cosplay makers take your traditional Halloween festivities one step further. In this post, we'll explain five important ways that cosplay on Halloween takes the holiday to a whole new level.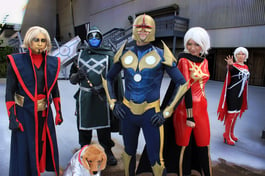 Are cosplay makers are among your brand's target segments? Check out our summary of what brands should know about cosplay makers to learn more about creating authentic connections with this powerful and influential audience.
5 Ways Cosplay Gives Halloween a Big Upgrade
Cosplay makers buy very few pre-made costume pieces. Aside from wigs, makeup, and other accessories, most cosplay makers create every part of their costume from scratch. Using a combination of craft store supplies and repurposed household objects, cosplay makers tend to give all of their costumes a personal touch. However, if a costume requires a pair of glasses or a prop that makes more sense just to buy than to make from scratch, the majority of cosplay makers would buy those accessories pre-made.


Cosplay is more realistic and accurate than most store-bought costumes. For serious cosplay makers, their homemade costumes look anything but homemade. In fact, cosplay can be crafted with Hollywood level quality and detail in a way that store-bought costumes generally don't even come close to. Licensed or not, pre-made costumes are designed to be easy to wear and fit a range of sizes, but they usually don't match the level of detail or number of pieces needed for a cosplay-level look (which is why some fans are willing to commission experienced cosplayers to make costumes for them!).


Some makers create multiple costumes for multiple Halloween events. While this may not be true for every cosplay maker, the abundance of costumed events that pop up around October give many makers the inspiration to create more than one costume this time of year. Cosplay makers may spend more on supplies and take on more projects than usual for themselves and others during the Halloween season. And even if they only create one new costume, they might re-wear old costumes they love to other events to get more use out of them.


Cosplay makers get into character. If there's one difference that really sets cosplay makers apart from general costume wearers at Halloween, it's usually that cosplayers actually get into character, not just into the costume. In order to pay tribute to the character they're portraying, cosplayers may copy the mannerisms, speech, or poses unique to their character. However, some general Halloween enthusiasts might do the same without even realizing it!


Many makers share the whole experience online. Most cosplay makers enjoy connecting with the cosplay community through online groups and social media conversations. While you might see a lot of costume pictures on Facebook on November 1st, cosplay makers are much more likely to share the progress they're making on their costumes from the very beginning of the design process. Following a cosplay maker's entire journey from idea to finish costume can span weeks or even months, but the final result is always worth it.
Cosplay: More Than a Halloween Costume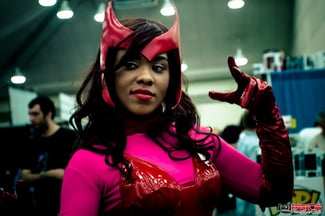 If there's one thing for you to take away from this post, it's that cosplay is a year-round hobby, but many makers love the opportunity to show off their skills around Halloween each year. Halloween events serve as great motivators to turn their ideas into reality, and cosplay makers often pay tribute to characters don't get the same recognition as traditional spooky monsters or pop culture phenomena. However, craft- and Halloween-focused brands in general can certainly reach more cosplay makers by learning more about their needs and motivation. By acknowledging the quality and support cosplay makers are always looking to add to their process, your brand can become a valuable part of what is (probably) a cosplay maker's favorite holiday.