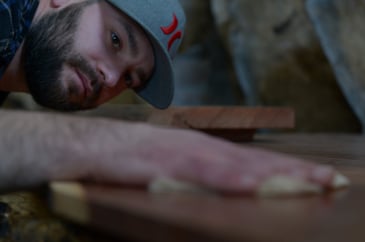 In the midst of the Instagram age, aesthetics and style play a huge role in the objects people make, buy, and sell. New home decor and furniture design trends come and go every year, and those trends often cross over into the DIY and woodworking industries. Two trends that have risen almost simultaneously in popularity in the woodworking sphere are live edge and epoxy resin designs.From tables to coasters to bar tops, live edge and resin make the perfect design pair, but is the trend here to stay?
In this post, we'll take a look at the visual appeal of the live edge and resin woodworking trend and how today's woodcrafters are setting out to achieve it.
What is Live Edge and Resin Woodworking?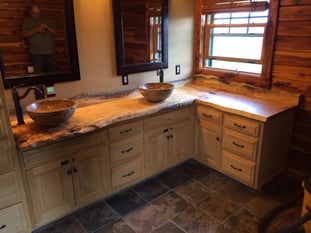 Live edge woodworking refers to the style of design that incorporates the natural, organic edge and character of a slab of wood. In contrast to perfectly even, straight edges, live edge style looks much more like it came straight from the tree. The rustic look of live edge gained popularity with the modern farmhouse meets industrial home design trend we've seen a lot of in recent years. Today, you're likely to see live edge pieces in businesses, stores, and restaurants too. However, there are some drawbacks to live edge table designs.
For one thing, irregularities in the wood can lead to somewhat dangerous sharp edges or weak spots that could cause the wood to crack or break off. Additionally, not all live edge tables are especially smooth on top for writing, eating, and other activities best done on a flat surface. As an alternative to a full-on live edge design, many woodcrafters have started incorporating epoxy resin into their pieces in order to balance them out and capture an even more unique aesthetic.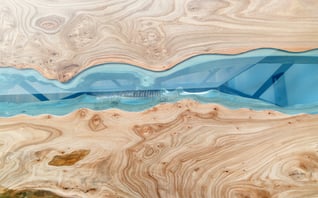 Epoxy resin is a synthetic adhesive substance used to coat or bind objects together. Filling the gaps in live edge furniture with resin is one of the most common ways to change up the style of the piece while also making it much more durable and reinforced against damage or uneven surfaces. Sometimes called "river tables," live edge tables with streams of colored epoxy running through are plentiful on Pinterest and at craft markets where woodcrafters sell their projects. Many woodcrafters choose to experiment with resin fillings in order to achieve this trendy style or to help their pieces last longer and stand out among the crowd.
Modern Woodworking: It's More than Just Wood
Live edge and resin woodworking is one trend that illustrates the evolution of the modern woodcrafting industry. While traditional woodworking styles are still immensely popular among crafters, these trends have promoted a more artistic and innovative niche of woodworking. Resin projects in general are growing and developing among crafters, and the trend easily carried over into the woodworking segment. But perhaps most importantly, the incorporation of resin into live edge furniture design is an example of the expanding toolkit of modern woodcrafters.
With the tools, education, and resources available today, numerous niches of woodcrafting, woodturning, and other wood projects offer something for every maker, even if they don't come from a traditional woodworking background. New woodcrafting supplies like resins could soon be as common in the workshop as saws, sanders, and stains. One thing is for certain: for brands that serve woodcrafters or makers in general, keeping up with crafting trends is the best way to remain part of the larger industry conversation surrounding your segment and your products.