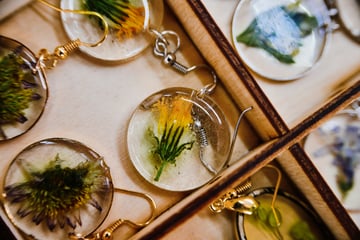 Backed by today's maker movement culture, creatives of all kinds can find the support, resources, and confidence they need to try out just about any craft, whether traditional or trendy. Part of that maker culture is the concept of 'hacking' or repurposing existing materials, intended for crafting or not, to make something entirely new. Case in point, resin, which is traditionally used in varnishes, adhesives, and even food glazing, has become a popular craft medium across segments, including jewelry making. In this post, we'll explain what your brand should know about the resin jewelry trend and discuss what types of resources jewelry makers need to get started with the material.
Resin Jewelry Applications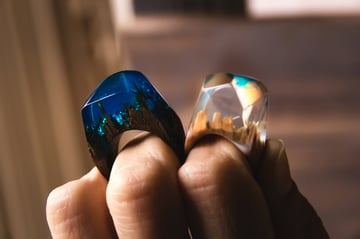 Resin was originally developed as a manufacturing material and comes in both synthetic and natural formulations. Typically, resin refers to compounds in liquid form that harden under heat, light, or other setting agents. When hardened, resin is incredibly strong and can add a translucent or opaque layer of color to a variety of projects. For this reason, resin has become a popular crafting element in multiple categories, from live edge woodworking to jewelry making.
Resin can be used to create beads, earrings, pendants, charms, and more, each with their own processes and tricks for makers to learn. The process for making resin jewelry differs depending on the type of jewelry and the design being made. In general, the processes consist of combining liquid resin with hardener while creating the desired design and colors. Usually, the resin and other elements are poured into a mold to harden into the desired shape. Then, once the resin pieces are finished, the maker will begin to attach them to their jewelry wire or other supplies in order to make them wearable.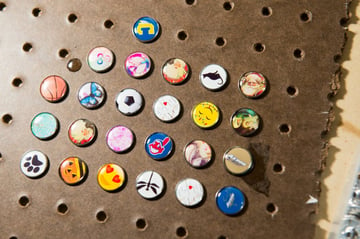 In some cases, the designs are created by simply mixing together different colors of resin or adding dye to the resin. Colors can be suspended inside translucent resin or opaque on their own. However, perhaps the most common style of resin jewelry is suspending decorative elements or objects inside of clear resin. Almost any small object -- dried flowers, small plastic pieces, metals, glitter -- can be encased in resin. Additionally, resin can be poured and hardened in a dome shape on top of a flat design, like printed paper or stamped metal.
Getting Started with Resin Jewelry
Resin jewelry is certainly one of today's trendier styles, and makers are finding inspiration for it everywhere. A simple Instagram or Pinterest search returns thousands of resin jewelry photos and tutorials, while resin jewelry is also a staple of craft markets and art shows as well. Fortunately, once a jewelry maker learns that working with resin can be much easier than they assume, many jump right in and start learning to make their own designs.
It can be extremely simple for makers to start creating resin jewelry without much formal training. All they need is a little how-to content to get them started, and then trial-and-error takes over until they become more comfortable with resin pouring and molding. Those informational resources, from blogs to videos to Pinterest posts, are incredibly valuable to the development of their skills, especially early on in the learning process. When a technique works out well, jewelry makers are likely to return to the same source when further questions or needs arise in their projects, which is why it's so important for your brand to get involved in the conversation early on.
However, we know makers like to improvise and experiment, and sometimes, they like to bend the rules. Experimentation goes a long way when developing their own jewelry crafting style, and you may be surprised just how unique and inventive jewelry makers can be when it comes to their resin molds. Any support your brand can offer them along the way helps establish you as a leader in the industry that jewelry makers can trust.