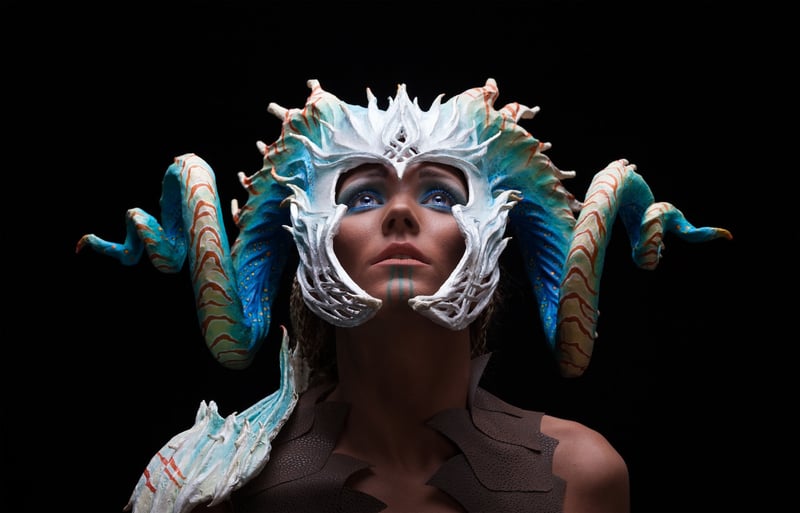 A cosplay maker's tool kit is usually stocked with many of the usual standby supplies and products for making costumes like glue, scissors, and saran wrap (for creating casts of body parts for armor— totally normal!). But just like with any other art, cosplay creators and the brands that serve them are always working to come up with new solutions to the craft's challenges.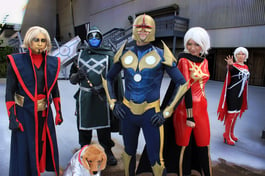 Are cosplay makers are among your brand's target segments? Check out our summary of what brands should know about cosplay makers to learn more about creating authentic connections with this powerful and influential audience.
Alongside cosplay's rise in popularity in the U.S. and the huge growth of the media convention circuit, many exciting new products have been developed in recent years to help cosplay makers attain certain designs and techniques. And when something really works, cosplay makers are sure to spread the news. In this post, we'll list some of today's most innovative cosplay supplies and products and explain how these new developments make their way into a cosplayer's tool kit.
Top Innovative Cosplay Supplies on the Market Today
Thermoplastics: Perhaps the most talked about and highly sought-after cosplay techniques at the moment is thermoplastic molding. Not so long ago, forming thermoplastics was largely an industrial manufacturing process, but a few crafting and cosplay brands, like Worbla, have brought thermoplastic to the creative masses. Thermoplastics are heat-activated and come in sheets or pellets for molding costume parts from small embellishments to full props or armor. With a little heating and sculpting practice, cosplay makers can create intricate shapes from this flexible material that would be difficult with less workable supplies.
EVA foam: EVA foam is another hugely popular material in cosplay due to it's malleability and light weight. Though EVA foam is commonly used in flooring (think those puzzle-piece garage mats), cosplay makers have adopted it as one of their materials of choice for costumes and props. EVA foam is relatively inexpensive and widely available, can be painted and sealed, or can be primed and sanded down with a Dremel into any shape a cosplay maker needs.


Heat guns: Heat guns, often used in home maintenance, are one of cosplay makers' current weapons of choice when it comes to forming those innovative materials for their costumes. They allow for a controlled, precise heating of whichever product a cosplay maker is forming — and when you have to wear a suit of armor all day, the fit needs to be exact.


LED lights: A cosplay and fan events get bigger and better every year, more makers are interested in pulling out all the stops to add more realistic and high-tech elements to their costumes. LED lights, whether single or in strips, are trending all over the cosplay community. These lights are often individually programmable, allowing the maker to choose what color each individual light is, and don't require a ton of power (so no one has to carry around a huge battery pack).
3D printers: While not every cosplay maker has access to one of these, 3D printers are basically magical in many cosplayers' eyes. The ability to digitally design the exact emblem, shape, or object someone wants to make and simply press 'print' is a huge time saver and great for accuracy, even in small details. Maybe that's why it's one of the Maker Movement's favorite devices overall.
Why Cosplay Makers Try Out New Supplies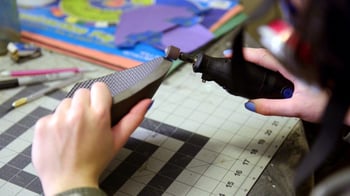 Cosplay, like any art, favors imagination and experimentation. In order to make a faithful homage to a favorite character or a brand new redesign, cosplay makers have no choice but to get creative with both their crafting techniques and the supplies and products they use to make it happen. While the items on our list also existed outside of the crafting context, cosplay makers and crafting brands alike saw an opportunity to use these innovative technologies to solve huge challenges in costume-making.
While fabric, glue guns, and even household objects will always have their place in cosplay designs, testing new supplies and products is one of the best ways for cosplay makers to figure out how to improve their crafting process in a way that fits their needs. However, cosplay makers discover these new products in many different ways. Both online communities and face-to-face relationships are a huge source of information on new products in the cosplay segment, as makers devote time to sharing tips and advice on which products work best in different situations. Cosplay makers can also discover new product launches at conventions and events themselves when crafting brands are present. Finally, many cosplay makers discover and follow brands and retailers, old and new, on social media, through email newsletters, or through other digital content channels.
When those brands make an effort to keep in touch and share news about exciting products and the ways those materials can be used, cosplay makers are far more likely to purchase products to try. As we know, cosplay makers are willing to invest in the quality of not only their costumes but also the products themselves, and when you've got the messaging and social proof to back up your products, your brand will be well on its way to garnering interest in the cosplay community.