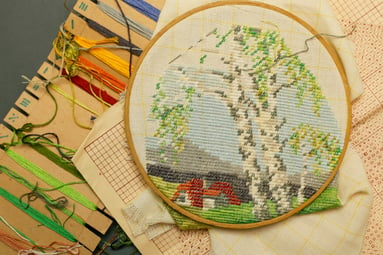 Even the craft community's more off-beat segments have a passionate following thanks to the encouragement of the Maker Movement. Especially in an age when it's common to practice more than one craft activity, even the smaller crafting segments deserve attention and support from the brands who serve them. One of the best examples is the current state of needle crafts in America.
Needle crafts (or needlework) make up their own distinct craft segment — apart from sewing, knitting, and quilting — and probably encompass more types of creative work than you'd expect. This small but powerful craft community has habits and trends all its own. In this post, we'll discuss who needle crafters are, what they do, and how they've found their place in today's craft industry.
Types of Needle Crafts
Needle crafts are defined by the AFCI as artistic creations made of textiles such as fabric, yarn, as well as natural and synthetic fibers. As we mentioned, this craft segment is considered separate from sewing and yarn crafts by the AFCI, so you might be wondering what a needle craft actually is. Here's a short list of some of the most popular sub-segments of needlework.
Cross stitch: A needle art comprised from a variety of x or + shaped needle stitches on a stretched piece of fabric to create designs or messages. Cross stitch can be displayed as art or applied to furnishings like pillows or pot holders.


Embroidery: The craft of decorating fabric by hand with a needle and thread. Embroidery might include embellishments like gems, pears, sequins, and more.


Needlepoint: A form of counted thread embroidery where yarn is stitched diagonally through a woven canvas. (Needlepoint may in some cases also refer to the creation of lace by hand.)


Needle felting: The art of using barbed needles to interlock wool fibers to sculpt a condensed shape/material.


Weaving: The process of interlacing two yarns or threads at right angles to create a new textile, usually using a loom or frame.
While the categories can be divided down even further to describe someone's specific crafts, these are the types of activities that the needlework umbrella encompasses.
Needle Crafting Statistics
Needle crafting as a craft segment is certainly diverse in many ways, but needle crafters also have a lot in common, too. Here are some statistics from AFCI's most recent craft and hobby study to help you understand the craft segment as a whole.
23.8 million Americans participated in a needle craft in 2016.


Needle crafters are also some of the crafters most likely to participate in multiple craft categories.


71% of needle artists buy their supplies in a physical store. Only 8% buy exclusively outside stores, and 21% buy from both (but remember that makers are always researching products online, no matter where they buy).


Needle arts represented a market of almost $1 billion in 2016. (Considering most needle crafters participate in other crafts as well, that's a lot of spend!)


Needle crafts are strongly associated with feelings of relaxation.


57% of needle crafters keep their work. 53% give needlework as gifts.


42% of needle crafters consider themselves beginners. Another 43% rate their skills as intermediate. That's an opportunity for your brand to teach them more!


69% of needle crafters are female. 31% are male.


Needle crafters are fairly evenly spread across age ranges: 34% are 18-34, 37% are 35-54, and 29% are 55+.
Needlework in the Maker Movement Today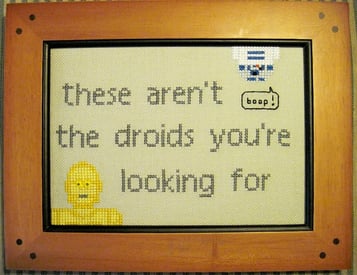 In an age where crafting is once again undeniably cool, even the smallest niches hold a lot of power. Needle crafters, in particular, say that their craft is relaxing and great for stress relief since it's a combination of slow, patterned counting coupled with the controlled motion of stabbing (their words, not ours). The passion for needle crafts may also be inextricably linked to a fascination or appreciation for popular vintage aesthetics. Perhaps thanks to the vintage and handmade community thriving on Etsy and on needle arts blogs, vintage lovers have the ability to make, buy, and sell needle crafts that serve as quirky, cute decor.
Though needle arts can certainly be seen as old fashioned compared to painting or jewelry making, many crafters have taken their work another step further when it comes to design. Some of the most popular needle crafts translate surprisingly well when incorporating pop culture characters or messages with a modern, sassy attitude. It seems that mixing the old with the new is one of the things that today's needle crafters do best.