Makers 1-on-1 is our original interview series featuring today's makers and DIYers. We're sitting down with new makers every week to learn more about their projects, how they acquire information, their purchase processes, and their passions.

This week, we're interviewing Bobby and Danielle Allen, the husband and wife jewelry makers and metalworkers behind The Circle Craft. Bobby and Danielle create incredibly detailed and unique bronze rings and pendants using the lost wax cast process. To create their designs, they use wax, a grinder, X-ACTO knives, sanders and sponges, dremels, and other carving tools. If your brand markets to jewelry makers and metalworkers, this 1-on-1 interview with Danielle and Bobby will give you important insights into connecting with makers like them.
What are your names and what do you do?
Bobby (B): I'm Bobby and this is Danielle, and we're The Circle Craft. We make jewelry.
Danielle (D): We make sculptural, organic, hand-carved, lost wax cast jewelry. We do fun things like scorpions and cicadas and rocky rings. I manage the wax working during the day, the custom work, shipping out orders, and then our social media.
How and when did you get started making jewelry?
B: It got started with me. I started out as a bronze sculptor and I thought it'd be fun to try making rings, unwearable jewelry, big, bold, and kind of dangerous to wear pieces. It turned out that people really liked them. That's how Danielle and I met. We had mutual friends. When she came to buy a ring, we pretty much have been together every day since then. I started making jewelry around 2012.
D: I still have the ring and I still wear it. He didn't want me to pay for it. He said that I should just have it since I was a fellow artist, but I insisted on paying for it. But then he did use the money to buy me drinks the next day. That was in January of 2013. It was just Bobby making rings, and then about a year and a half later, I started making rings too. At our first show ever, everyone thought I made the rings, and I had to explain that it was him who made them. So I started taking classes on jewelry and metals at the Cleveland Institute of Art, but Bobby taught me everything else I know. I went to school for medicine, but then I decided it wasn't for me. Then I went back to school for painting before I met Bobby.
B: And now she's way better at it than I am. Right out of high school, I went to Bowling Green State University, and I thought I'd study art therapy or art history because I had a lot of interest in art growing up, drawing and painting and all that. But then I took my first sculpture class there and saw metal pouring and totally fell in love with it. Then life took a weird turn when I moved back to Cleveland from L.A. in 2013, and it turned out that the fastest way to get the nursing degree I was going for was to finish my old sculpture degree, which I had more or less abandoned. So I was more than happy to focus on some art. I have techniques and skills saved up. After a semester or two, it turned out that I didn't go into nursing.
What's the process of creating a piece of jewelry?
B: You make a model in wax, then using the lost wax casting process, you cast that in bronze, gold, or silver. First, we have to think about what we want this piece to do. Sometimes we'll take designs we like and riff on them or come up with a new concept. Or for custom work, we'll work with designs the customer wants. Once we have the design, we can construct the ring in wax. If you wanted to make a simple band, you'd take some soft wax, make a round band out of it, or maybe cut it from a sheet. There are a lot of different techniques. Once it looks the way we want, we attach another piece of wax that's kind of like a straw to the end of it. We hang that straw with the ring down into a canister filled with plaster, so the straw is the only thing sticking out. We flip it upside down and heat it up, all the wax melts out. Then we pull it back out, pour metal down into the hole where that wax was, and you've got your ring in there attached to a stick. You break off the plaster, cut off the stick, grind and polish it, and you've got your ring. It takes a lot of work to make one ring, but you can pour multiple rings at a time.
D: We grind the rings down once they're cast because they're pretty rough and covered with plaster. They don't look like the nice shiny pieces of jewelry that you see.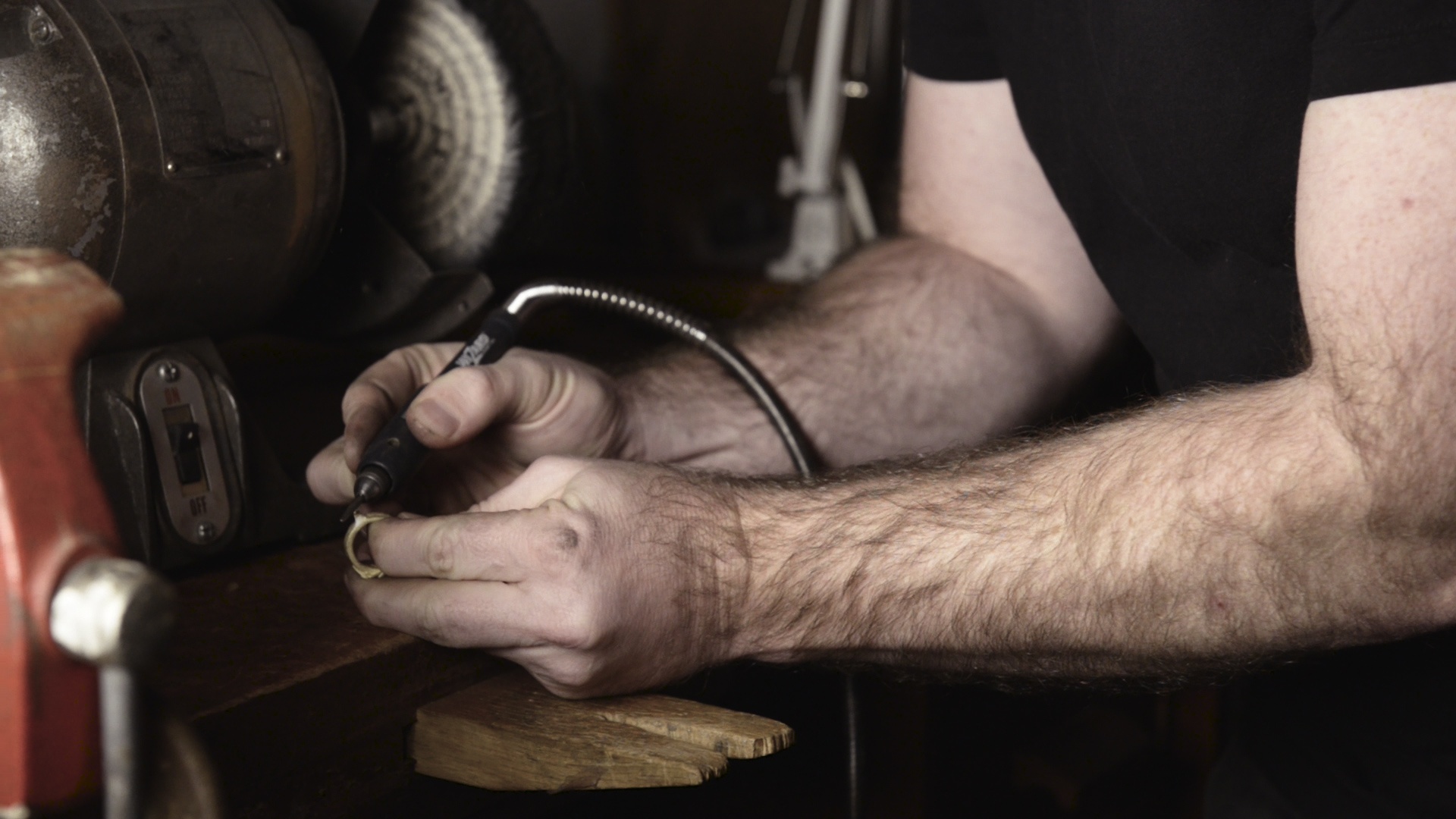 What materials and tools do you need for that process?
D: We like to start with our wax, and there are different types of waxes. There's brown wax that's softer and easier to form and mold. There are harder waxes that are more plastic-like that you can saw or cut and use that to start your ring. I prefer the brown wax; I like to sculpt with it and form and shape with my hands. My favorite tool is just a plain X-ACTO knife, but there are other tools that we use. There are dental tools and wax working tools that have tiny little picks or sharp edges to carve away the wax. We use a mandrel to get ring sizes in wax. We use wax pens and lighters. Sometimes we heat the wax, and then we'll use a little candle and heated tools.
B: We also have some homemade wax carving tools we make for our own specific purposes, like a little piece of wood chopstick that we shaved down to put perfect little square holes in something like a waffle pendant that we make. So you want to create the right tool for the right job. You can heat up a butter knife to make smooth textures. Sometimes, you want to work by hand like Danielle does, or other times you want to grind with a drill bit or a burr to get a really mechanical edge. It just depends on what level of resistance that you want. To protect our tables we use mats, and we heat stuff up in a hot pot or on baking sheets. Sometimes we hammer them to got a certain form or texture. We have a bench vice, torch, and patina is what we use to put a dark finish on silver and bronze.
D: Then once it's metal, we use belt sanders, Dremel tools, files, sanding sponges, all kinds of attachments for the Flexi-Shaft. It's almost as much work to finish the ring in metal as it is to make it in wax. So the metal finishing is very different from wax working. We use visors and hearing protection and respirators and gloves to try and make sure we're safe. Sometimes we use the belt sander to grind, then we use the Dremel tool or files to file the rings down, and then sanding sponges to smooth the surface, then the buffing wheel to finish the pieces.
How do you choose what brands or suppliers to buy from?
B: A lot of the time, we'll buy the cheapest just to see if it works.
D: And to see if we like it, and it's something that we would want to use in the future.
B: We weren't sure if we wanted any of these needle files, so we went out and bought the cheapest needle files on Amazon, and they worked pretty well, but we knew we needed to invest in them somehow. So we go to Rio Grande Jewelry Supply for a lot of our nice files and tools. We seek the advice of people online; we're in some jeweler Facebook groups where you can ask people their opinions, and we talk to other jewelers that we know to see what they like. At a certain point, you just have to start experimenting and see what you like and find what works best for you.
D: I would say we get most of our products from Rio Grande because they are a great source for jewelers, and all of their stuff is pretty high quality. They're reputable and if you have an issue, you can return things.
B: They don't seem to censor their negative reviews, so you can look at products and see things like, "It's a good value for the price, but it's not a good long-term investment." That might be a good option for us. Or we might go with one that has good reviews. Even if it costs three times as much, if you end up using it every day, it'll turn out better.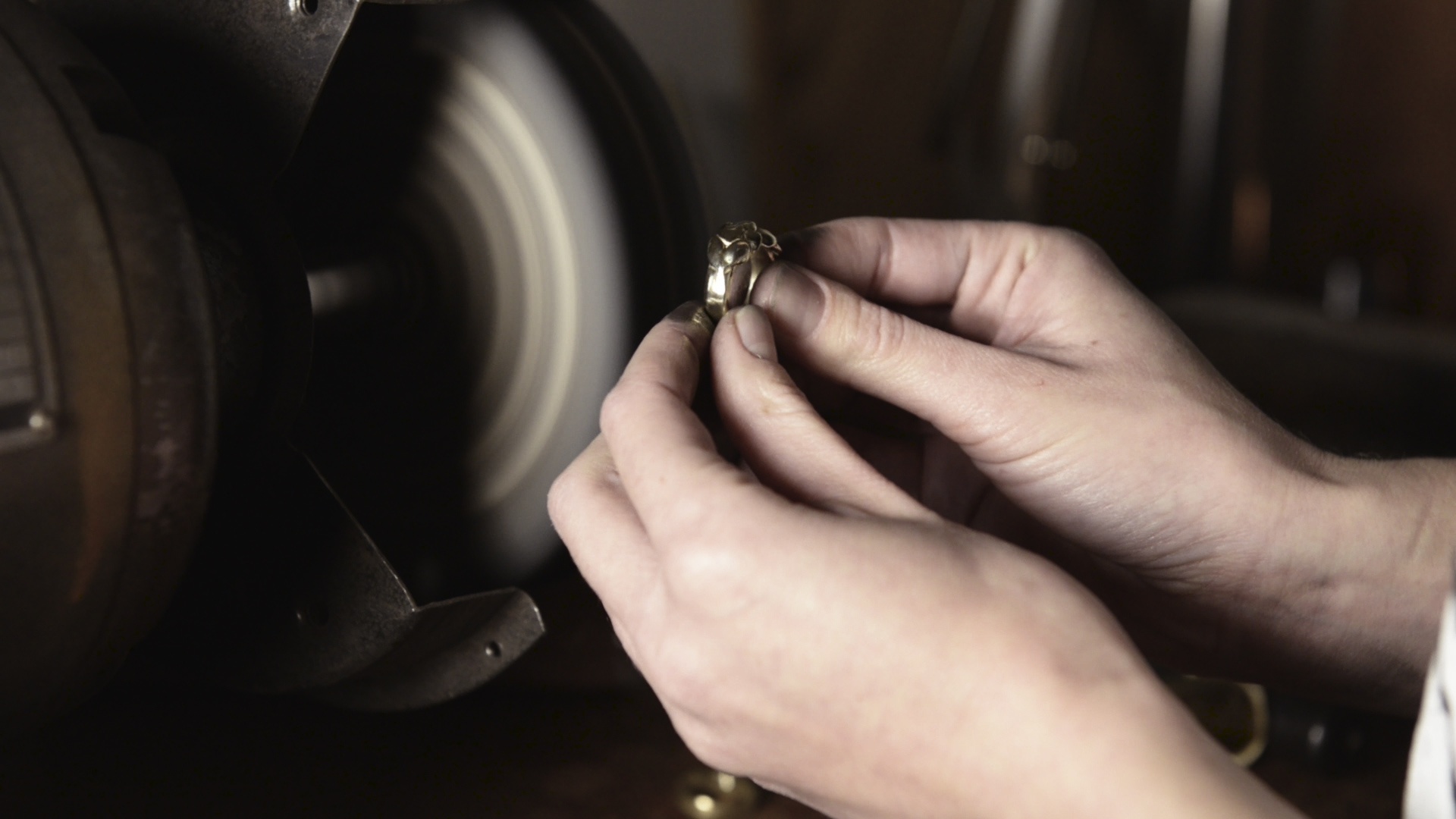 How do you find unusual materials that you might need?
B: We were in a situation where a friend wanted us to develop a cuff for them, and we needed to come up with a way to make a nice dome shape. I was looking around for a trailer hitch or something that I could use. I didn't want to have to buy a $300 round form when I could improvise. I ended up finding something similar in my friend's garage, so now we hammer out every one of our domed cuffs over this little tool that we don't even know what it's original purpose was supposed to be. We also get advice by talking to our jeweler friends. We see how they handle situations and see if we should buy a real tool for the job. It depends on what we've got and what we can get easily
What resources do you use when you have a question about jewelry making?
B: We ask our jewelry mentors, and we look on YouTube for advice.
D: We'll search things online and try to find people that have done something similar. We'll try to find techniques and things. We talk to other mentors we have here in Cleveland if they're willing to give us tips and advice.
B: There's a lot of garbage jewelry advice out there, so it's hard to parse, but again Rio Grande is a great resource in that way. They have a lot of free videos on YouTube that can at least get us going in the right direction. They can sometimes be commercials for products, but they do show some good techniques that we can adopt.
What social media platforms do you use and how do you use them?
D: Mainly Instagram, but also Facebook a little bit. When Bobby started making jewelry, he started following and connecting with other budding jewelers. Over the years, they have grown and evolved and so have we. It's so nice to have a community of people you can talk to and support. We also post a lot about what shows we're doing and things on both Instagram and Facebook.
B: It seems like the techniques necessary for winning at Instagram are changing monthly, weekly, daily. We have had good responses from boosting posts, even if we only put $10 into one. We have generated custom work from 100% of those posts so far. On one hand it's nice that there's a return on investment for paying for engagement, but on the other hand, it makes me so annoyed because if we were given our normal reach, we'd be getting customers all the time. I understand that they're running a business just like we are. We'd also love to be selling on Etsy, but we just don't understand how to work that system or play the game. There's no posted 'best practices' for how you find the search terms for your niche and post for the best penetration.
D: We'd much rather be making things than trying to figure all that stuff out. But I like Instagram because it's image based, so when I'm working or making something new and I'm feeling proud of something I've done, I can just snap a picture and put it out there. It can be very real, but of course it can also be not so real.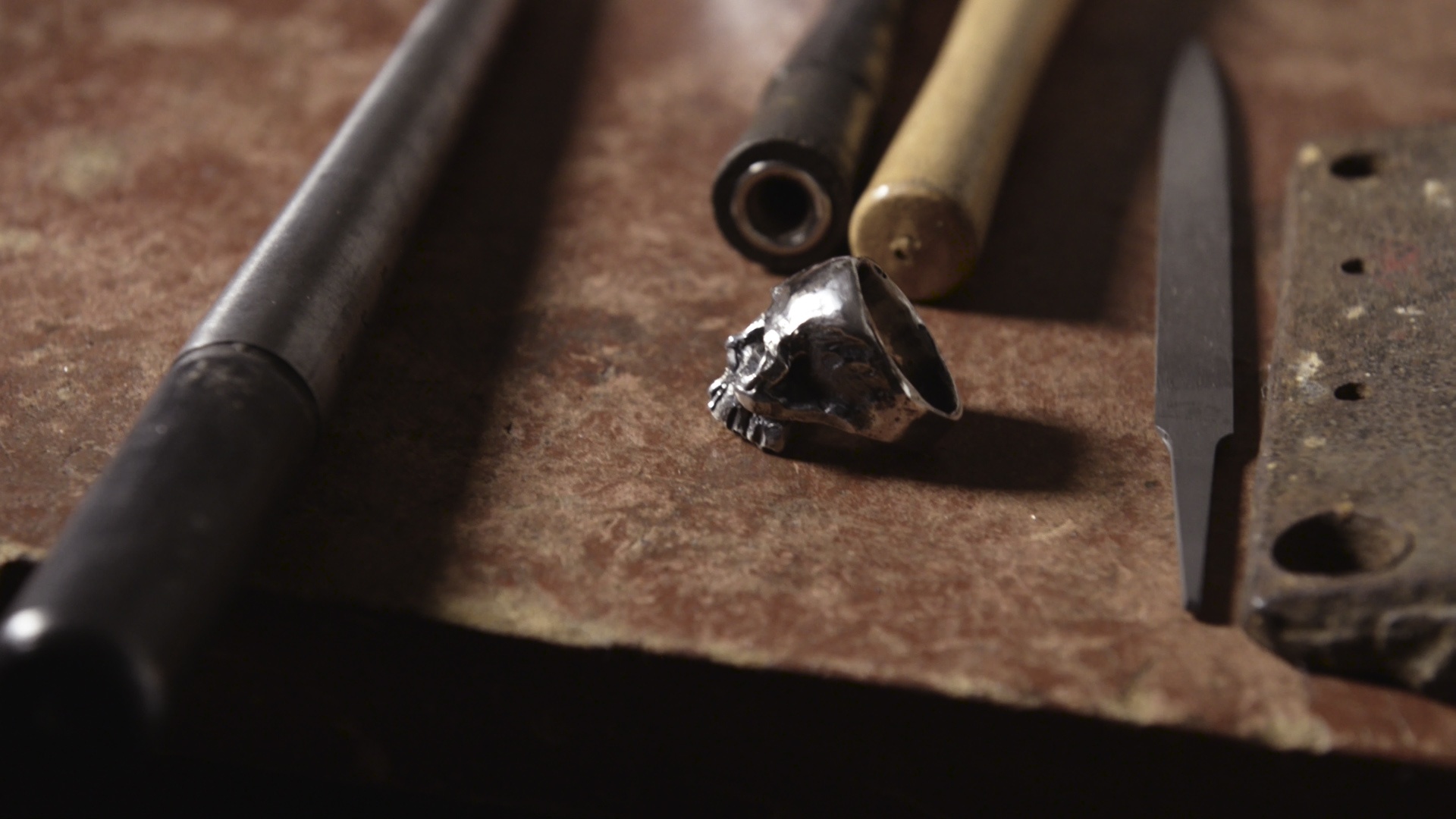 Where do you get inspiration for a new piece?
D: I usually get inspiration for jewelry just everywhere. For example, we were just traveling in Europe, seeing buildings and architecture, and when I'm looking at stuff, I'm always thinking of how I can translate that into jewelry. I like organic textures and shapes. A lot of The Circle Craft is about textures because it's very sculptural. I try to work out a piece, but I don't want it too perfect and finished; I want it kind of raw. I like to do things that are a little bit creepy and unexpected like bugs and plants and things that interest and intrigue you, but there's something else to it that's unusual, unique, or weird.
B: We also do custom work for clients all the time, and they push us out of our comfort zone. We've made new categories of products, like our first earrings last week. People have the most interesting directions they want to take things in and it's really cool to be in a position to help get them exactly what they want. It's a combination of their vision and what we do.
What's the most rewarding part of making jewelry?
B: We love when we get to make wedding bands for couples. Sometimes we'll invite them over and we guide them in making each other's wedding bands. That's great because you get to see something you've helped make that's part of the best day of these people's lives. Then, every day they see that ring and think of the great experience they had making it and how much it means to them. To be a part of that process is really awesome. Something that I didn't feel like I got to do as a sculptor, I feel like I'm really achieving as a jeweler – making something really important.
D: It's also really rewarding a couple years later when we see them out or at shows and they're wearing their bands and we get to say, "We helped you make that!" Also, delivering a piece to someone, especially if it's a commissioned, custom piece and we're communicating with them the entire time we're making it — a piece looks so different in wax and when it's finished and polished, and they're always so surprised when they see it, that's also a cool part for me.
B: It also feels good to pay the rent with money that we made with the jewelry business.
How do you deal with unexpected problems and challenges in your craft?
D: There can be a lot of frenzy, and usually when we're working on stuff, it's on a deadline. We need to get pieces to a store or client by a certain date, so there's not a lot of room for tools to be breaking down and things to not work out. We go to the hardware store a lot, we one-day ship things a lot, and pretty much we just put our heads together and say, "We're going to figure this out." It's nice because sometimes when I get a little stressed out, Bobby's more level.
B: I always have a backup plan and more. If a tool breaks, there's always a way to do the same thing, it's just going to take ten times as long. So maybe we get ten friends to help us so it takes the same amount of time, and all of the sudden we have a pizza party and we got our work done. Working around things and figuring out solutions to problems is what artists do.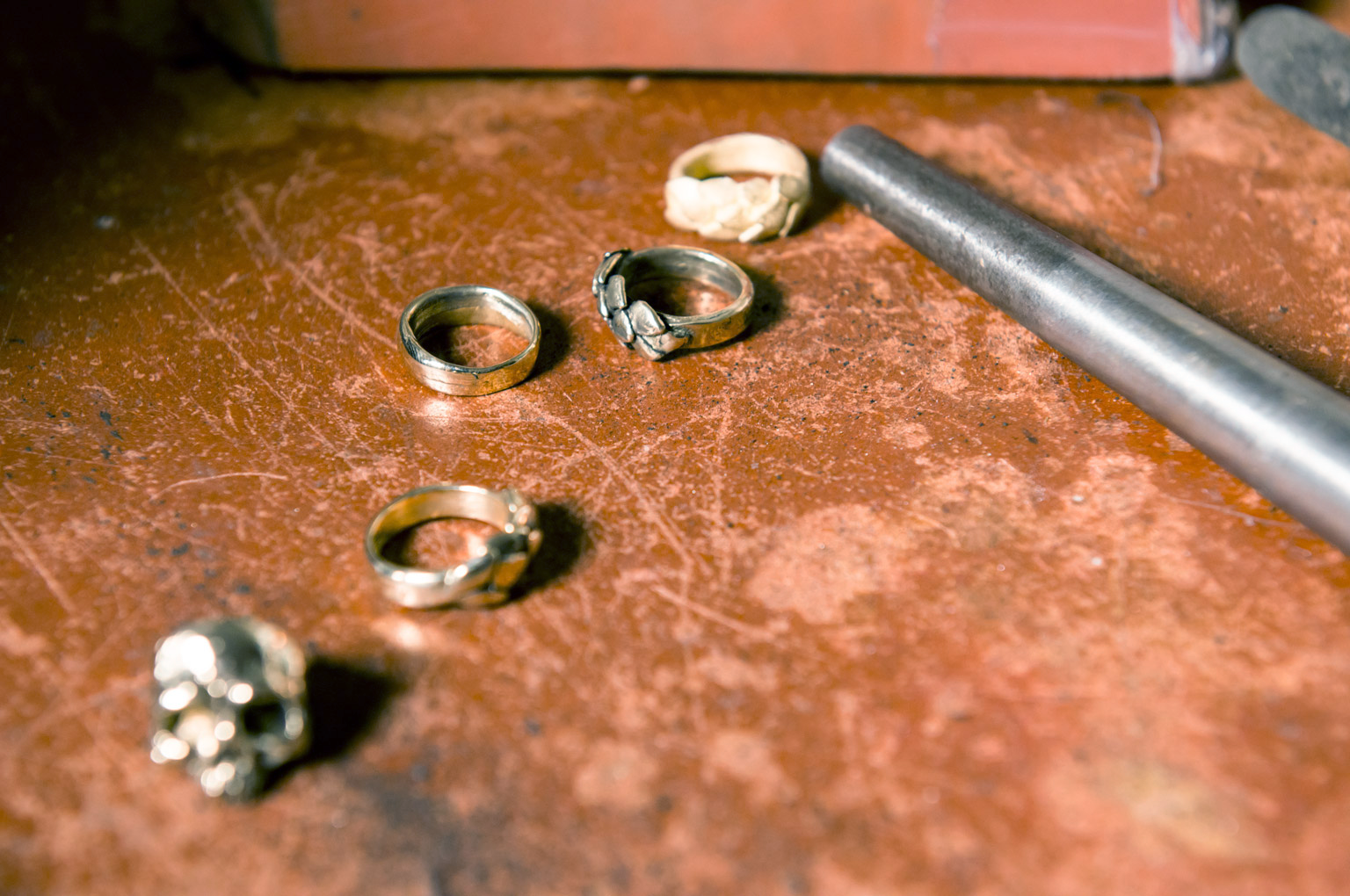 What's next for you?
D: It'll be our fourth year at the Cleveland Holiday Bazaar. That was our first major show that we ever did, so we like to do that one. Return customers will come and see us and that our style is changing and evolving so we get to reconnect.
B: Some people buy a ring every year, so by year four it's like a tradition. We're also going to be at the Cleveland Flea Holiday Maker Market on December 15-17. Also, 2018 is going to be the year when we really start going for wholesale, so now we don't actually have to sell every ring in person. We're working with a new caster, and we have the whole process down and efficient, so now it's time to find stores to stock our stuff. It's been a bit of a fun learning curve. We have a few tentative opportunities for that, and that should teach us enough that by the holiday season next year, we're in at least 5 stores across the country.
D: Then come January, I'm going to start taking some private classes and practicing stone setting. We have a lot of engagement rings to make so that's a personal goal for me.
What's your favorite part of being a jeweler?
D: Getting dirty, getting messy, grinding stuff. I never thought I would do something like this with my life, working with metal, because it's scary and loud and messy. But it's so cool that with a file or some tools, you can shape a piece a metal into what you want, anything that pops into your head. Then the jewelry side of it is also great because people put your rings on their body and they're attached to them and they wear them everyday as part of their outfit, and it's neat that you can touch people that way.
Learn more about Bobby, Danielle, and The Circle Craft online: