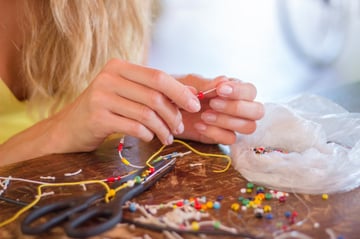 Jewelry makers area a passionate niche of crafters and fine artists that care a lot about the quality of their finished pieces. Whether they're stringing beads, pouring resin, or pounding metal, they know that they can only get the quality out of their jewelry that they put into them. That's why these makers are discerning and deliberate in sourcing the materials they need for their craft.
From the designs to the materials, jewelry makers are careful about everything they put into their pieces, but it's not always obvious from the start which materials will provide the best quality and the right look. In this post, we'll explain how jewelry makers source their materials based on the needs of their craft as well as how these passionate crafters form connections with their suppliers.
3 Main Ways Jewelry Makers Source New Tools and Materials
Searching organically online: The most direct path that takes jewelry makers to the materials and tools they need is through organic online searches through a search engine like Google. These searches are usually spurred by a need or a challenge that arises during the crafting process. For example, if their current materials aren't providing the style or quality they're looking for, or if their tools are wearing out or too difficult to work with, jewelry makers might turn to internet searches first to find out if there's a simple solution to their issue. In the process, they're likely to come across better products, either that they've heard of before or that are completely new to them, that can solve the issues they're researching. Jewelry makers will also use targeted keywords related to their craft and the products they need to find out what options are available and where they can purchase them. During this process, makers will read reviews and look for branded and unbranded content to give them a clearer idea of the quality of the products before they decide which to buy.


Browsing manufacturer and retailer website: Many jewelry makers will also turn directly to manufacturer and retailer websites with their material and tool searches if they already know what types of products they need to solve their issues. The websites they search vary: some makers will turn only to the companies they already trust to provide what they need for jewelry making, while others might turn to manufacturers they've heard about but never purchased from before in hopes of giving them a try. In addition to website searches, makers will also sign up for and browse manufacturer emails and newsletters to stay up to date on the new products and solutions their favorite brands can offer.


Asking the community: Finally, one of the most sure-fire resources for today's jewelry maker is asking their maker peers for advice and recommendations. When jewelry makers run into a challenge or a question that a new product or material could potentially solve, they turn to their friends, mentors, and online groups for recommendations they know they can trust. When they can talk to someone who's been through the same struggles they have, the ideas and solutions they can gather are more trustworthy and genuine. Jewelry makers are extremely open to sharing their experiences to help others, and word-of-mouth is an effective way to promote good brands and products that support the community.
Jewelry Makers and Their Suppliers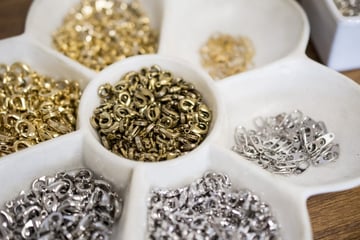 While there may be more steps to the sourcing process than just identifying what products they need and where to buy them, jewelry makers today are continuously trying new materials in order to improve their final pieces as well as the crafting process overall. While product research can help ensure that a product or material will be worth trying, the only way for a jewelry maker to know for sure is to put the product through trial and error to see what happens. The ability to order samples or small batches is incredibly valuable to jewelry makers in the middle of the sourcing process, and they're likely to view manufacturers who offer these opportunities in a more positive light.
One thing we know for sure about today's jewelry makers is that while they're loyal to the products and tools they love most, they're almost always willing to try something new if it comes with the right recommendations and proof to back it up. If it ends up being the wrong fit for their process, they simply start over and source something else until something works the way they want it to. While it should always be your brand's goal to serve as a jewelry maker's longtime partner, it's important to know that the sourcing process is ongoing as curious makers try to find out if their favorite materials can possibly be beaten out by something new and better. By staying in touch with your target audience's changing needs and the trends in your industry, you can position your brand as an innovative presence in the jewelry market.