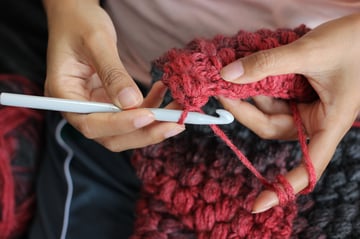 Social media and the digital content market has significantly impacted the way that most makers and crafters think about their work, regardless of their segment or niche. Fiber artists, like knitters, crocheters, weavers, and more, are especially active and vocal on their favorite social media platforms. But when there are only so many hours in the day to spend scrolling through Instagram, Facebook, and Pinterest, how do fiber artists prioritize their time on social media?
In this post, we'll discuss how today's fiber artists use social media to stay up to date with the industry as well as explain how you can connect with these passionate makers online.
3 Main Ways Fiber Artists Use Social Media
To show off their own work: Social media, especially in terms of sharing photos and videos, has become the primary channel through which fiber artists share their work and show off their designs. Both finished in-progress and finished project shots are common, and both candid and curated shots fill their social pages and feeds. For some artists, staying active on social media and sharing projects is a way to attract new followers and customers. For others, their social feed is a place to document their progress in the art as their skills improve.


To learn more about their art and industry: Social media is also a great source of information about improving their fiber art skills. By following both their favorite maker brands and their fellow artists, makers who work with fibers can learn new stitches and techniques, find out about new products and tools, and see what's trending in the industry. By following a mixture of creative accounts, fiber artists can access a constant flow of inspiring content that motivated them to try new things and keep striving for higher quality in their own work. Plus, when fiber artists are looking for a new yarn brand or a specific tool to solve their artistic challenges, social media is one of the first places they turn for recommendations and reviews.


To build their maker community: Finally, social media is a great place for fiber artists to network with other makers and find emotional and creative support for their craft. In fact, most fiber artists aren't passive scrollers when they log in to social media. Instead, they start and contribute to conversations centered around their art and the life of a maker in general. They comment on each other's work, ask questions and offer advice, and get involved with live and digital events and campaigns that help expand the fiber art community in their area and around the world.
Connecting with Fiber Artists Online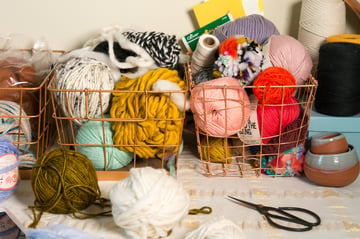 So if fiber artists are actively engaged in their own social media communities, how can your brand get involved and make meaningful contributions to the conversations? First, it's generally important to meet your target audiences where they already are online. Instead of trying to attract fiber artists to various platforms, focus on the platforms that makers love most and find ways to integrate your brand into conversations that are already happening. In general, makers are most enthusiastic about social media platforms that rely heavily on photography and make it easy to interact with others, including Instagram, Facebook, and Pinterest.
Once you know where your social messages would have the best impact, it's also important to interact with makers using your brand's authentic voice. By being human, being helpful, and being genuine, you can connect with fiber artists through the education and support you offer. By adding value to their crafting process, you can form meaningful connections with fiber artists that leads to a strong relationship and repeat purchases down the line.