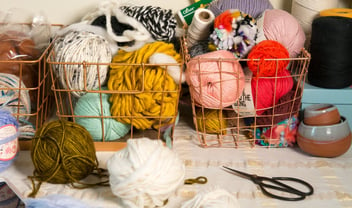 Fiber artists — like knitters, crocheters, and weavers — may have a considerably smaller toolkit than some other types of makers. Give them some quality yarn, some needles, a loom, and some scissors, and for the most part, they're likely to be pretty happy. However, that doesn't mean that they don't shop around for the best products or try out new brands when they're given a good reason to. While every consumer and fiber art process is different, having an understanding of the ways your target audience discovers and purchases new products is one of the best ways to improve and diversify your content marketing strategy. Enter the Buyer's Journey framework.
By illustrating a general buying process for knitters, crocheters, weavers, and other fiber artists using the Buyer's Journey framework, your team can discover what topics they should be covering in the content creation process. In this post, we'll explain what a common Buyer's Journey for fiber artists might look like and how your brand can use that journey as a guide to attracting and retaining new customers and brand supporters in the fiber art community.
Knitting, Crochet, and Fiber Art Buyer's Journey

The Buyer's Journey is a framework that illustrates how a particular target audience (or persona) discovers and researches products before deciding to buy. The framework is made up of three stages — awareness, consideration, and decision — that are characterized by the type of questions the potential buyer is searching for answers to at that stage.
While the Buyer's Journey framework is a helpful way to understand how potential customers make buying decisions, it's important to remember that this framework is flexible. Some buyers might skip certain stages or ask more unique or specific questions, but understanding the framework is a great starting point to understanding what information your potential customers need from your brand.
Here's a look at what each stage of the Buyer's Journey entails and what those stages might look like for fiber artists in particular.
Fiber Artists: Awareness Stage
During the awareness stage, potential buyers realize they have a problem or a need but often have trouble identifying its cause. This stage is all about figuring out what the problem is and whether it's worth pursuing further research on how to solve it. For fiber artists, common problems to identify might include:
Yarn issues like unraveling, unpleasant texture, limited selection of colors
Design issues like confusing patterns or stitches that aren't lining up or connecting the way they should
Using the wrong size or type of needle
Other factors that might affect the behavior of yarn or fibers
For fiber artists in the awareness stage, content like how-tos and tutorials are especially helpful because they're able to watch someone else demonstrate the process they're trying to replicate and identify what they're doing wrong. Additionally, educational blog posts and videos on knitting-, crochet-, or weaving-related topics can provide helpful information that helps the maker identify what they need to change about their process in order to solve their problem.
Fiber Artists: Consideration Stage
During the consideration stage, buyers perform further research using search engines, social media, and other resources to create a list of possible solutions to the problem or need they identified in the awareness stage. While creating this list, most makers will begin to evaluate the different options or products available to solve their problems, weighing the pros and cons to come up with their list. Some questions fiber artists might be asking during the consideration stage could include:
What other types of yarn could I try?
Is there a product that's better for this project than what I'm already using?
Should I be using natural fibers?
Is there a new stitch or pattern that could give me better results?
What products are specifically designed for the type of projects I'm working on?
Fiber artists in the consideration stage are likely searching through various retailer/manufacturer websites to compile a list of possible products they could invest in to solve their issue. Additionally, to attract fiber artists in the consideration stage, provide blog posts or videos that explain the value of changing their process or upgrading their tools and materials and the new, better results they can expect from those changes.
Fiber Artists: Decision Stage
The decision stage of the Buyer's Journey is the final stage of research before a customer actually makes a purchase. During this stage, the maker will weigh all the options on their stage 2 list, make final comparisons, and finally narrow it down to the one (or few) products they're actually going to purchase. The customer is not only deciding what product to buy, but also where or who to buy it from. During the decision stage, fiber artists will be comparing products under their own criteria for quality, price, and more. The content that influences customers in the decision stage includes:
Product reviews from brands, bloggers, and former customers of all kinds
Ratings and reviews on your website or from retailers like Amazon
Case studies
Video demonstrations that give the maker and idea of what it's actually like to use your product
Technical information and specifications
Information about the manufacturing of your product (what it's made of, where it came from, sustainability, etc.)
Content for this stage of the Buyer's Journey should focus on the value you provide with your product and your brand. While content for the first two stages should remain purely educational to avoid coming across as a disingenuous sales pitch, providing some content, like case studies, feature/benefit posts, and product comparisons, is helpful for customers in the decision stage. While you should strive to keep your content genuine as opposed to salesy, you should give fiber artists the information they need to make the best purchase decisions for them (even if that content ends up deterring the potential customers that aren't right for your product). Decision stage content ultimately helps the right people commit to trying your product.
Using the Buyer's Journey To Create Content for All Fiber Artists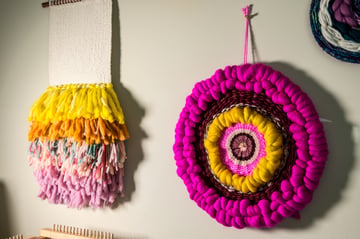 Good marketing strategies focus on both building relationships and trust with potential customers as well as moving them toward a purchase. Both elements are crucial to developing a strong community of fiber artists that support your brand and recommend your products to other makers in their communities, both in person and online. By providing education and expertise centered around the main questions and topics involved in this buyer's journey, you can begin to reach fiber artists at every step of the framework, allowing your potential customers to get to know your brand before you ever actually ask them to buy.
With the Buyer's Journey and your target personas in mind, your team can start creating a comprehensive backlog of content that can reach fiber artists at any point along the framework. By analyzing the types of questions and keywords fiber artists are searching at each step of the journey, you can ensure that your content strategy doesn't have an glaring gaps.
The buyer's journey we've outlined in this post is a great place to start, but it's almost important to remember that your particular personas or target audiences might have much more specific questions or problems compared to the more general ones we've listed here. Through mindful conversations with customers and further audience research, your team should be able to supplement this buyer's journey framework with the specific topics the fiber artists you want to target are searching for.