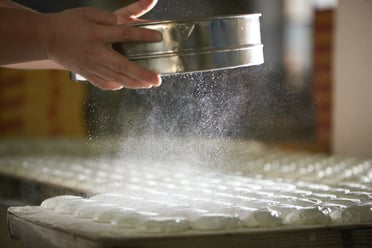 When you think of crafts, the first images that come to mind are probably of things that people keep for a long time: paintings, homemade cards, a knitted pair of socks, a custom pair of earrings. However, today we're taking a deeper look at a craft that's only meant to last for a short time before it's gone: the edible arts (but that doesn't make them any less creative or beautiful).
In this blog post, we'll explore how edible arts, despite being perhaps the most different from other craft segments, have become some of the most popular crafts today.
What Are Edible Arts?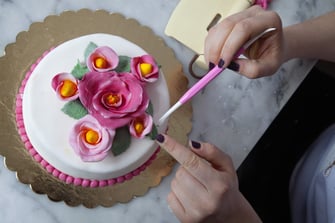 Above and beyond traditional baking, edible arts are defined by the AFCI as the creation of attractive edibles using icing or other decorative elements to make plain food more interesting. Here are just a few examples of edible crafts that are popular today.
Cake decorating: The icing or frosting of cakes or cupcakes with decorative elements and designs.
Candy making: The preparation of candies or sugar confections, from hard candies andgumdrops to chocolates and caramels.
Fruit and vegetable carving: The shaping of fruits or vegetables with a knife to reveal decorative colors and designs.
Molding: The use of molds or special forms and pans to shape baked goods and deserts (think of bundt cakes and jello molds).
Cake sculpting: The layering and trimming of cake to resemble a three-dimensional person, place, or thing.
Edible Arts Statistics and Demographics
Edible arts make up one of the most popular and fastest-growing craft segments in the Maker Movement. Whether due to the recent uptick in baking and icing supplies available in craft (or even grocery) stores or an increase of previous crafters who want to incorporate creativity in the kitchen, these statistics from AFCI will help you get an idea of what the edible arts community looks like as a whole.
In 2016, 39.7 million Americans participated in an edible arts activity.
Those crafters represented a market of $6.98 billion dollars in 2016.
22% of edible arts crafters said they planned to increase their participation within 12 months of the 2016 study.
54% of crafters said that edible arts are becoming more popular — the highest rate of any craft segment.
84% of edible artists purchase their supplies in store (but we know that they're always researching new recipes, ingredients, and techniques online first).
63% of edible artists tend to purchase only what they need, meaning there's always an opportunity to try new brands.
Edible artists strongly agree that their craft is special to them, and that they'd really miss the activity if they stopped participating.
Edible arts are most strongly associated with emotions of joy and excitement.
65% give their edible crafts as gifts, while 61% also keep their creations (until it's time to eat!)
40% consider themselves beginners, and another 50% consider their skills intermediate.
62% of edible crafters are female. 38% are male.
41% are aged 18-34, while 37% are 35-54, and 21% are 55+.
Edible Arts Trends
Trends in edible arts, and perhaps the widespread interest in them as a hobby in general, may be thanks in part to our increasingly visual culture. For example, when you know a picture of the birthday cake is likely to end up on social media, you might be more tempted to put in the time to make it more attractive. But edible arts are about much more than Instagram; they're about the love of the process and the creativity to turn something ordinary into something beautiful. Here are some edible arts trends fans of your brand are looking for today:
The Craft Food Movement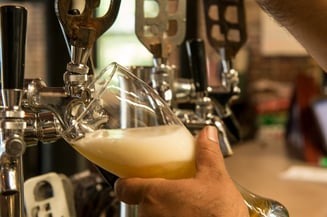 While AFCI's study focused mainly on cake and sweet treat decorating— rightfully, as it's one of the biggest craft segments around — we also consider the more savory side of artisan foods to be an important part of today's Maker Movement.Armed with the ability to research different aspects of cooking, baking, and brewing as well as the access to tools and ingredients to try it for themselves, creative makers are also making a big splash in our culture with artisanal/craft food and beverages.
Whether they're brewing beer at home or starting their own brewery, starting up a food truck or creating new flavors of coffee, we think the passion these food crafters exhibit is one that the brands who support them shouldn't ignore.
From adding some extra flair in the kitchen to creating unique flavors for any meal, today's edible artists are a more powerful craft segment than ever — and their work is enjoyed by everyone until the very last bite.