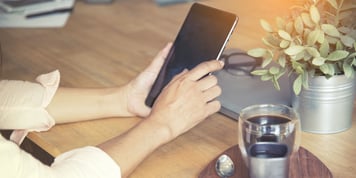 One of the best ways to attract and retain customers today is by expanding your brand's online presence. The most visible way to do so? Creating valuable content that your target maker audience loves. Digital content creation increases the number of indexed pages on your brand's website, bolstering your SEO and providing a space for your social media posts to direct traffic to. But how can you decide what content to make?
While there are plenty of ways to brainstorm new content ideas, one of the most sure-fire methods is to research what your maker audience is already consuming online and apply your unique expertise to the same topics or formats. Not only will you learn more about your target audience's goals and challenges along the way, but you're sure to walk away with some great content ideas inspired by what's already working in the digital community. Here's our guide to how your brand can discover content ideas by researching your target maker audience's online consumption habits.
Where To Look for Maker Content Ideas
With just a few quick searches, you might be surprised to find how much content is already available to makers of all kinds online — content produced both by other brands and actual makers aiming to educate others. However, especially when it comes down to niche maker segments, there are still plenty of topics to be covered, and makers are seeking your brand's unique knowledge. The key to content research is to think like the makers you're trying to connect with: where do they look for information? What do they see when they get there? How do they choose which things to click on and what things to pass up?
To find out what types of content your target maker audience loves, start by checking out these places:
Social media: Social platforms like Facebook, Instagram, Twitter, Pinterest, and more already make up for the majority of time makers spend online. Sifting through hashtags, groups, pages that are popular with your target audience will give you a great idea of what topics are popular within that audience. Take note of how the content is presented and broken down for consumption and revisiting. If you see certain topics revisited over and over, add them to your list and consider how your brand could approach them even better.


YouTube: Video is dominating the digital space at the moment, and is projected to grow even further as our online platforms evolve. Researching what channels and videos relating to your market segment are most popular will give you some great ideas for topics to cover and how makers like to see them approached through video. Consider product videos as well as informative how-tos and more.


Trade magazines, newsletters, and websites: Written content (digital and physical) is a great resource for researching what trends, challenges, and news topics are important to your target audience. Researching these longer-form, informational resources will ensure your content is not only current and up-to-date, but also relevant to your target audience.


Live events: Looking outside the digital space is another great way to research content ideas that are relevant and valuable to your audience. Checking our the IRL events that your target audience attends can give you a better idea of what they're shopping for (ex. store demonstrations, craft markets, product launches, etc.), but also what they want to learn (ex. workshops, classes, conferences, etc.)
Creating Maker Content That Stands Out
Collecting and brainstorming content ideas is an ongoing process; whether you and your team compile your ideas every day or every few weeks, a consistent content creation process and schedule is what allows your online presence to continue growing and developing. Starting with content ideas that you know will be valuable and interesting to your target maker audience requires understanding who today's makers really are and how they function in their own maker segment. In order to turn all that research into content, you have to be both creative and deliberate.
Over our time marketing to makers, the content we've found to connect best with modern makers has a lot in common: it's clear and concise, it's packaged in a format that's convenient and helpful for the audience, and it's infused with your brand's unique personality and expertise to help it stand out from the crowd. By carefully planning your content calendar according to what already appeals to your maker audiences (as well as answering questions that address what's not yet been covered), your brand has a much better chance of carving out a valued place in the maker community.