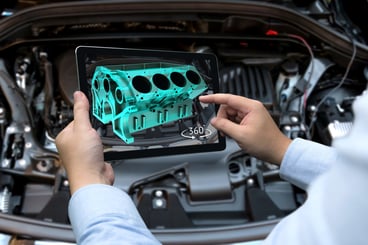 Augmented reality (AR) is the virtual technology that's changing the way we shop, learn, and interact with the world. By superimposing computer generated images on top of our view of the real world, augmented reality allows us to tour a destination, try on glasses, or even catch Pokemon with our devices.
While many brands are still trying to make sense of how augmented reality can work for them, the automotive industry has found plenty of applications for the technology, especially in the arena of DIY work and repairs. In this post, we'll introduce some of the most innovative applications of augmented reality for automotive DIY as well as discuss what the future of automotive AR might look like.
Augmented Reality Technology for Automotive DIYers
Hyundai Virtual Guide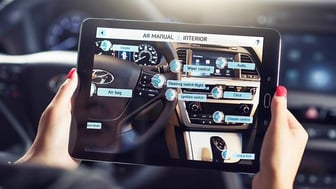 One of the first automotive manufacturers to offer an AR resource, Hyundai introduced its Hyundai Virtual Guide in 2016 (at the height of the Pokemon Go craze). The Virtual Guide is an app that acts as a modified owner's manual for the 2015-16 Sonata models. The app is loaded with how-to guides including 3D overlay images when held over the part of the car a DIYer is repaired. Users can access information on 45 major car features using the app, including some of the vehicle's most difficult to use features, as reported in a consumer survey, effectively empowering Sonata owners to take more maintenance into their own hands.
BMW Wearable Mechanic
As another brand-specific innovation, BMW is currently developing a DIY device that combines AR with the rising popularity of wearable technology. While they're not available on the market yet, BMW claims that its Wearable Mechanic goggles will give users the ability to "see through" your car. These glasses will use AR technology to assist with maneuverability and field-of-vision alerts, as well as projections that assist DIYers with common mechanical issues they're likely to face.
I-Mechanic
I-Mechanic is an AR app created to serve a wider range of makes and models. I-Mechanic moves beyond projecting the location and description of key parts onscreen, the app walks the DIYer through a guided repair step by step with actual demonstrations hovering onscreen. I-Mechanic is convenient for easy maintenance and is especially useful for empowering less-experienced DIYers.
Apple ARKit
While the ARKit software from Apple isn't purely automotive-focused, it puts the power in any tech-minded DIYer's hands to create their own car repair AR app. As automotive AR continues to develop as a resource, accessing a custom AR repair app for any specific make or model in one place could be possible on ARKit.
The Future of Automotive AR
AR technology in the automotive segment can be utilized in many ways, from design to technician training to virtual showrooms where potential buyers could experience a new vehicle firsthand from anywhere. However, AR presents a huge opportunity to engage the automotive DIY community in an educational and empowering way. According to research by Mintel, nearly 20% of vehicle owners aged between 18 and 34 say that an augmented reality app would help them perform their own DIY maintenance and repairs. Especially among younger consumers, augmented reality is an innovative channel that today's DIYers are actually interested in trying out. As more manufacturers and platforms continue to apply the capabilities of AR to the automotive market, we're likely to see more and more vehicles, and DIYers, getting involved.