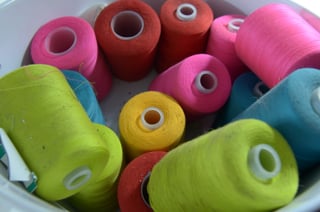 With over 2.2 million apps available in the Apple store alone, we can find find an app for just about anything. In addition to various social media apps, I have apps on my phone for yoga, tuning my ukulele, catching Pokemon, and even a game not for me, but for my cat. Even when it seems like there's already an app for everything, more are created every day.
So when it comes to makers, have you ever wondered what kinds of apps they have on their devices? As we discussed in our recent post, the top craft industries cover a lot of different segments, but there are apps out there to support all craft niches. Some might surprise you while some might not, but we've compiled a list of some of the best apps for crafters today.
8 Of Our Favorite Crafter Apps
Pinterest: You probably expected this one, but with good reason: it's got pages upon pages of project inspiration and tutorials. Pinterest had positioned itself as a platform to curate mood boards of what we aspire to be - perfect for makers who are looking for something to create next or an audience to inspire with their own work.
Instagram: Makers love browsing and sharing photos on Instagram for inspiration, too. However, Instagram photos of projects (finished and unfinished) might come across as more realistic than Pinterest-worthy wins, and it's easier to connect and engage with other makers directly on this app.
YouTube: When it comes to learning a new skill or troubleshooting a problem, most crafters turn to YouTube first. They rely heavily on video for instructions they can actually see in action before they attempt something on their own.
Etsy: Etsy is one of the top apps for crafters when it comes to e-commerce. Besides managing orders and showing off their work to potential customers around the world, makers also use Etsy to see what others are making and to differentiate themselves in the market.
Craftsy: The Craftsy app is a hub for resources and tools to turn an amateur maker into an expert. Masterclasses, patterns, and kits are available for a wide variety of arts and crafts interests.
Snapguide:

Not to be confused with Snapchat, Snapguide

is an app owned by digital media company (and tutorial expert) Brit and Co. with

tons of free how-to guides on various topics, from crafts to food to car repair. There's no technical jargon to sift through here, only simply worded, step-by-step guides to follow.
iHandyCarpenter: Who knew your phone could be a multi-tool? While not all crafters are carpenters, the tools in this app can assist with a wide range of different crafts and projects. Using your phone's built in functions, iHandyCarpenter turns any maker's phone into a surface level, bubble level, plumb bob, protractor, and ruler.
Creative Bug: If you want to be sure the tutorial you're watching is the best quality out there, the Creative Bug app is the place to go. Knowledgeable instructors walk makers through a project or problem step by step in Creative Bug's classes.
Applying App Tactics to Engage Crafters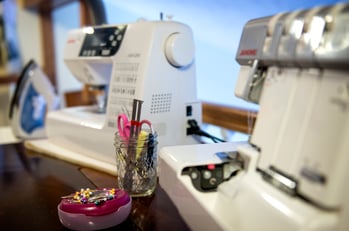 While crafters comprise a diverse market segment, they tend to have several traits in common. Crafty folks do a lot of research to become experts on their work, and content consumption grows more mobile every day. Apps are a huge channel through which we get information, but there are ways you can inject your content with the concepts makers love about the apps they use. Visual inspiration is HUGE in the maker community, and your website and social media channels can showcase both sample projects and proof of your product's features and results.
And speaking of help, providing advice, tutorials, and answers to popular questions in your content is a fantastic way to mimic the self-help capabilities of the best apps for independent makers. Just like makers have apps in their pockets to help their projects run smoothly, your expertise can also become an indispensable source of support (and you don't need an app to do so).