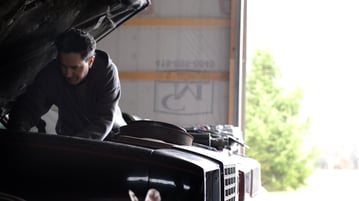 In our recent focus group with real automotive DIYers, self-proclaimed gearhead David Kidd confirmed our suspicions about DIYers and the internet when he declared, "How we buy and how we find information has totally, completely changed." While there are plenty of places for DIYers to research and buy products online, the most important is your brand's website, the central hub that connects all of your brand's touch points. What you might not know is that your website speaks for your brand, and the things it says make a big impact on today's DIYers.
Whether these DIYers are in the researching or decision making stage of their Buyer's Journey, your website is a space where you can communicate and connect with them in ways that affect their purchase process and brand loyalty. However, you have to make sure your website is doing as much as it can to attract customers and help you achieve your goals. Here are the top 5 things DIYers are looking for when they access your brand's website.
Top 5 Things DIYers Need From Your Brand's Website
How-to content: The number one way to attract DIYers to your website is to provide how-to content in the form of blog posts, videos, PDFs, and more that helps them with their projects. On one hand, sharing your knowledge establishes your brand as an expert in your field. Additionally, providing content allows your website to be found through search, gives you links to share on social media, and gives potential customers a reason to stay on your site longer. By educating DIYers on how to use the parts they can buy from you, you become a valuable resource in their arsenal.


Product photos and information: For DIYers who are purely researching, comparing, and buying products, having a clear, well-organized product catalog on your website is critical to earning that customer's purchase. Whether you're selling directly through your website or informing your customers where they can buy elsewhere, the ability to find the product (and technical info) they need is at the top of DIYers' list online.


About: A page (or pages) on your website with more information about your brand, its values, and its history inspires trust and understanding between you and your potential customers. If you're looking to build connections with today's DIYers, it's important to be transparent and personable.


Cohesive look and branding: The visual design of your website is what communicates your brand's personality. Old-fashioned, out of style websites are often more difficult for visitors to navigate and don't necessarily leave a great impression. However, updating the look of your website shows that your brand is professional and up-to-date, while leaving a memorable impression behind. Just be sure that your new graphics aren't overwhelming. As DIYer Cameron VanDerHorst said about his favorite automotive website, "It's not flashy; it just works."


Contact details: Providing a way for website visitors to contact your brand for assistance, more information, or just answers to their questions will help potential customers take the next step, whatever it might be. While your website as a whole should function as a helpful resource for DIYers in general, offering the option to contact customer service for a personalized touch can influence a DIYer's buying decisions markedly.
Why Your Website Matters to Today's DIYers
Almost all consumers today use the internet to research solutions and options before making any kind of significant purchase, and the exact same goes for automotive DIYers, perhaps even more so than other target audiences. When their automotive project depends on choosing the right product and methods, DIYers know it's worth their while to spend more time researching first.
As the internet plays an increasing role in guiding their DIY work, automotive DIYers depend on the information your brand is able to provide for them, and your website is the most centralized, completely customizable way to do so. What's more, the customer experience provided by your website is what helps DIYers (who often discover your brand online in the first place) evaluate whether your brand is a good fit for their process or not. With just a little analysis, effort, and critical thinking, your website can do a lot of that persuasive work for you and turn potential buyers into loyal customers for years to come.