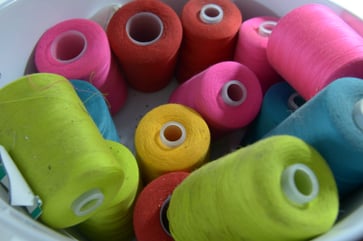 While the internet might look a lot different than it did ten years ago (or even six months ago!), at least one thing about the digital sphere has remained: online communities and apps let us make connections with people we relate to, both near and far. Part of the incredible growth of the Maker Movement in the past decade has been thanks to this exact type of online connection that allows makers to learn and interact with other makers, brands, and content on platforms like Instagram and Pinterest.
One craft community that has especially embraced Instagram as a hub of creativity is the sewing community, made up of sewists, quilters, and fashion designers of all kinds.
In our interviews with makers who sew, we've heard that almost every single one of them uses Instagram regularly, but what exactly are they doing with the platform? And why do they favor Instagram over many other platforms? In this blog post, we'll discuss sewing on Instagram, how makers who sew use the platform, and why it's one of their favorites for research and socializing.
How Do Sewists Use Instagram?
While everyone uses social media a little differently — following different types of accounts, engaging in different ways, and searching for content with different methods — there are some clear trends in the ways that sewists and designers use Instagram. Here are some of the most popular ways that makers who sew use Instagram:
Following their favorite brands and independent creators: Instagram is a great platform for getting instant and regular updates from the people you follow (or, if you believe in the algorithm, the accounts you interact with the most). Sewists use Instagram as a tool to keep in touch with the brands they love, watching for new products, special offers, or other industry news. However, most sewists don't just follow professional brands; they also follow bloggers, creators, and indie suppliers for informational content as well as lifestyle content they enjoy or relate to. Sometimes, just sharing photos of your everyday work and surroundings helps bring sewing makers into your world on Instagram

Looking for design inspiration: Whether it be keeping an eye out for new patterns and color combinations in fabric or staying in touch with the latest fashion trends, Instagram is a great tool for sewists who want a daily dose of inspiration. While inspiration can even come from posts that are completely unrelated to sewing, any image on the platform can spark an idea for a new passion project or innovative design. While most sewists wouldn't copy an exact garment they saw on Instagram, elements of fashion that catch their eye on Instagram might crop up in future pieces. Smaller sewn crafts tend to be more fair game when it comes to recreating the exact project you see (or save) on Instagram.
Building community bonds: Finally, sewing makers have embraced Instagram as a community networking platform where they can both show off their in-process and finished projects as well as supporting others with their likes and interactions. One exciting facet of the Maker Movement is the desire for every maker to succeed (whether that be financially or just in pursuit of personal crafting goals). Instead of harsh competition, the sewing community is close knit (excuse the pun) and supportive of new ideas and ambitious projects from others. Makers who sew also love to keep in touch with the other makers they meet at craft markets and events using Instagram.
Why Instagram Appeals to Makers Who Sew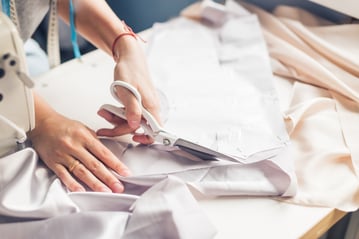 While there are plenty of different ways for makers who sew to use Instagram for research, inspiration, and networking, one thing is for certain: Instagram is a platform that's suited to their needs. For one thing, the ability to scroll infinitely through inspiration on their feeds and aggregated in relevant hashtags, there's practically no limit to what designers can discover on Instagram. That being said, Instagram posts are generally short and compact: there's no large time commitment necessary to consume them. Whether they're professionals or hobbyists, makers who sew are conscious of the time they spend online as opposed to time spent actually sewing or taking care of other responsibilities. Instagram, then, is ideal when you consider that they can spend as much or as little time browsing it as they want.
Additionally, interaction on Instagram can feel more direct and personal than it does on other apps. Since feeds are carefully curated and most ways to engage connect back to a particular post, there's a casual, conversational feel to Instagram interactions that sewists crave. But perhaps most of all, Instagram appeals to makers who sew because, just like their craft, it's tactile and visual. While they can't actually touch the fabrics in the pictures and videos on Instagram, the sum of all that's available on this image-based platform caters to a sewist's personal aesthetic and love of color and form. For these reasons and many more, makers who sew rely on Instagram as their favorite window into all that the digital creative community has to offer.