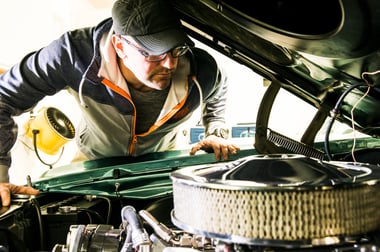 Automotive enthusiasts come in different types: some only take on small repairs in order to save time and money while others are always looking for the next auto project to try. Both types of enthusiasts are important parts of the aftermarket—an audience that we know for sure is growing. Today, enthusiasts of all kinds are starting to take on more advanced maintenance tasks than ever.
For aftermarket brands and retailers, it's incredibly important to support the projects your audiences wants to do. In this post, we'll list the most popular DIY tasks for automotive enthusiasts and explain how you can empower your customers to try new DIY projects on their own.
Top DIY Maintenance Tasks for Consumers and Enthusiasts
According to Mintel's 2017 DIY Auto Maintenance study, many consumers already perform several basic auto maintenance tasks on their own. Survey respondents reported whether they'd done each job in the past, whether they hadn't done the job but knew how, or whether they would like to learn how to do the job in the future.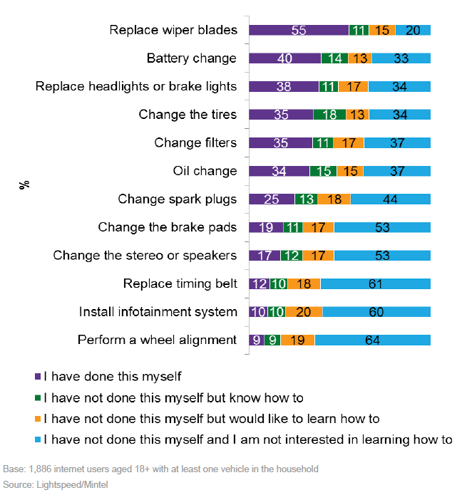 Some of the most popular basic maintenance tasks that consumers have actually done themselves include replacing wiper blades (55%), changing the battery (40%), and replacing headlights or brake lights (38%).
Tasks with medium popularity include changing tires (35%), changing filters (35%), changing oil (34%), and changing spark plugs (25%). Under 20% of consumers reported changing break pads, changing stereos, replacing timing belts, installing infotainment systems, or performing wheel alignment. However, there are percentages of consumers in every maintenance category who either know enough to do the job or are interested in learning how.
While examining the results of the study, it's important to remember that only a small selection of maintenance jobs were included in the question. Many more consumers and enthusiasts are certainly interested in other tasks, upgrades, and projects not covered in the study, like painting or detailing. This question was also used to sort survey respondents into categories based on their DIY history and interests: DIY Auto Enthusiasts, Aspirational Enthusiasts, Moderate Interest, Just the Basics, or No Interest.
Empowering Enthusiasts to Take On Maintenance
While knowing what maintenance tasks are most often performed by consumers and enthusiasts should certainly give your brand some ideas about what products and support to provide for your customers, another statistic from Mintel's study is perhaps even more critical to understand. According to the organization's research, over 80% of vehicle owners are at least interested in learning to do some type of auto maintenance on their own.
While some more advanced tasks like engine work or steering alignment might largely remain tasks for the auto shop, you should know that vehicle owners truly do want to learn; they just need the tools and resources to get started. If your brand can be there during their project research, not only with the products and parts they need but also the expertise and tutorials to teach them how, you stand a much greater chance of becoming that enthusiast's go-to DIY supplier and partner.