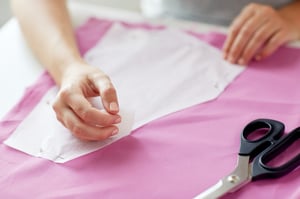 Experimentation is part of almost every craft in the Maker Movement today. Experimenting with new products and processes allows crafters of all kinds to express their own creativity and style in more authentic ways — otherwise, they'd buy something ready-made off a shelf. This is particularly true for makers who sew, whether they create clothes, home goods, or something else entirely. But there's one part of the sewing process that modern crafters are experimenting with more than ever: sewing patterns.
The choice of what pattern to use (or whether to follow a pattern at all!) differs between sewists of all disciplines and experience levels. While using a pattern is ultimately a matter of personal choice, this decision certainly affects the ways sewing makers bring their creative vision to life. In this post, we'll discuss the state of patterns in the sewing craft, along with the most common sources sewists turn to when they need a pattern today.
How Makers Who Sew Use Patterns
Patterns have been a staple of the sewing industry for decades, serving as easy-to-use instructions that allow sewists to replicate a particular design or group of designs as many times as they'd like. While many makers who sew still use patterns the same way, others have gone a little further outside the package. Here are the most common ways today's sewing makers use patterns:
As a strict blueprint: Plenty of makers who sew stick to traditional pattern use. They select and purchase patterns that will help them achieve the look or fit they want to create, and they follow the instructions to turn their fabrics into finished pieces. Patterns are a great tool for beginners as well, taking all the guesswork out of the process, besides the slight tweaking and tailoring that customizes the piece.


As a base or foundation: Continuing with another construction metaphor, plenty of makers who sew also use patterns as a basic outline to get their creations started, but then they add their own customizations onto the project to fit their vision. Some sewists might mix and match panels from different pattern groups or even go rouge by eyeballing certain additions to the basis of their pattern. This is particularly common among clothing designers and cosplay makers.


Not at all: Of course, there are some makers who choose not to use patterns at all! While this category is usually made up of more experienced makers, some beginners may also forego patterns in pursuit of a more tactile learning experience or a particularly unique design style. This doesn't mean they don't need help when they hit a snag (physically or metaphorically) once in a while, but for some, patterns aren't a normal part of the sewing process.
Four Common Sources for Sewing Patterns
Sewing patterns today come in a few different formats and from a variety of creators and outlets. Here are the top four places makers who sew source their sewing patterns:
Craft/sewing stores: Specialty craft and sewing stores like Jo-Ann Fabrics, as well as smaller, more independent fabric shops, are perhaps the most popular source for the big brands of sewing patterns (McCall's, Butterick, Vogue, and Simplicity are known in the industry as the 'Big Four'). Using catalogs in-store or online, makers who sew can find patterns that match their needs from a wide selection of stock.


Independent pattern makers: Some more advanced makers are able to create and offer/sell their own original patterns to their fellow sewists. Some choose to offer patterns for free in the form of written or video tutorials or as downloads that the user can copy or print. However, other pattern makers choose to monetize their contributions to the craft by selling homemade patterns. Many times, these independent pattern sellers can address niche designs and markets that the large companies are missing.


Etsy or Ebay: Online sales sites like Etsy and Ebay are a great source for vintage or out-of-stock patterns that emulate older styles that makers want to recreate or redesign.


Their own imaginations: With a little trial-and-error, many makers who sew are capable of learning to create their own patterns from scratch, allowing themselves to replicate their own unique designs multiple times. In our interview with plush doll maker Theresa Morrow, she gave us a helpful hint from her own process: she outlines her creations on freezer paper that sticks to fabric so that she can reuse those patterns in the future. Many designers with a lot of experience also tend to create their own custom patterns when a new design requires it.
Patterns are certainly a huge part of the sewing craft. They illustrate how pieces come together to create a final product, and they're useful for building sewing confidence and regulating the quality of a finished garment or object. While there are certainly makers out there who see patterns as limiting, there are plenty of ways that patterns can be discovered and used in order to expand the creative possibilities of a sewing machine, not limit them.