What's your name and what do you do?
My name is Susan Hazel Rich, and I'm the owner and designer behind Hazelmade. I make illustrated stationary, paper goods, greeting cards, and home goods as well, like tea towels, coasters, and calendars.
How did you get started doing that?
Hazelmade started about four years ago when I was looking for a transition from doing client-based graphic design work and I wanted to start illustrating and creating products of my own.
How did you learn how to illustrate and make products?
So with a background in graphic design, I didn't take too many illustration classes. I started researching how to draw, how to sketch, different techniques to use on the computer, and basically just dove right in.
What's the process to create a new design?
For me, I never start by thinking about a product. I think that really stunts what I'm trying to create, so I just openly draw and sketch. It might be some flowers I had in my garden today or some leaves that we saw on a hike. A lot of my inspiration comes from travel. Recently, we went to Morocco, and I was really inspired by the textiles and patterns there. So I'm gathering and drawing and sketching, building sketchbook pages, and when I see a design that I connect with, that sort of tells me what product it needs to be. So whether it's going to be a greeting card or a calendar page, a tea towel — I don't necessarily let the production method guide the product that I'm creating.
Once I have a sketch that I really like, I start to think about it in the space that is the finished product. My greeting cards are all a certain fixed size, and my towels are the same fixed size, so I start to play with that design in that space. And maybe it works; maybe it doesn't. Once I know a drawing is going to fit the space, I actually digitally trace the piece of artwork that I hand drew with Illustrator on the computer. That way I can have a really nice quality print and something that's going to size itself really well digitally. I can also easily hand those files off to our production partners.
I partner with other local, family-run printing companies to help me produce the work that I'm creating. That was a move I made about two years ago, and it was just to help open up the amount of time I spent producing products vs. time that I wanted to be drawing and working with my customers and clients directly. So taking the production side off and handing it to other partners — like I said, they're all family run and so they're great to work with and they keep those products at the quality that I want.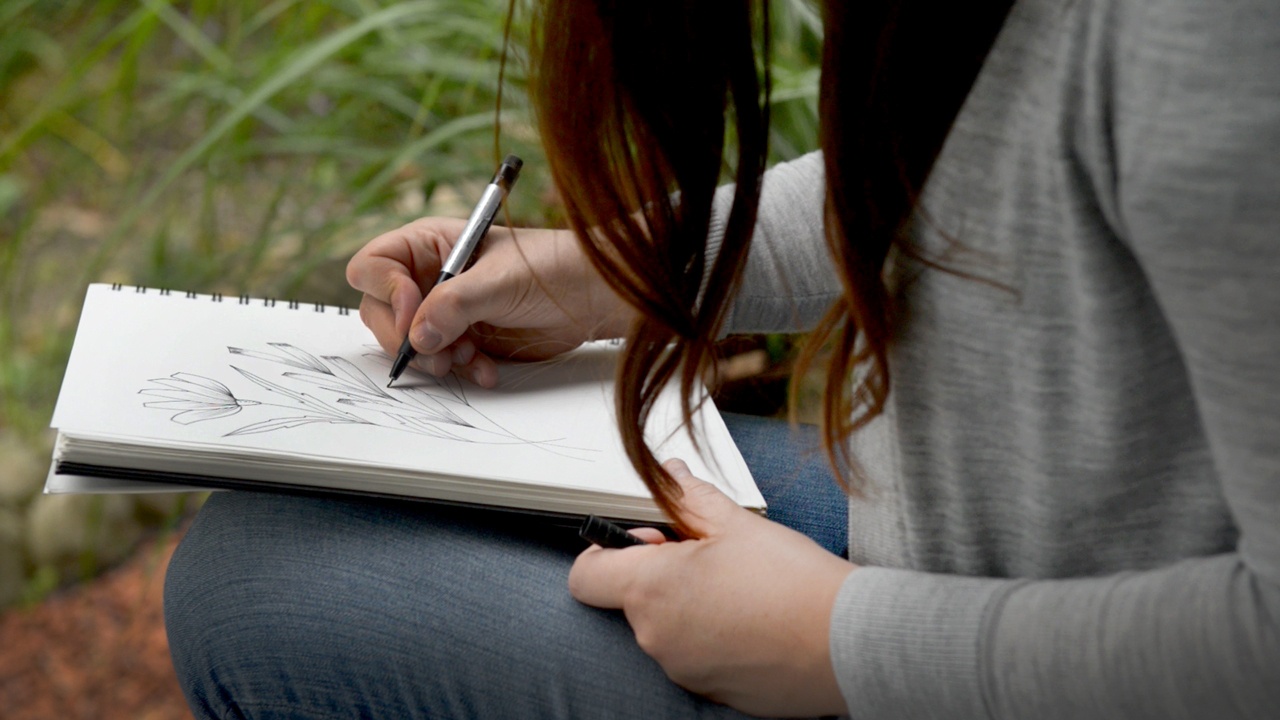 How do you research your craft?
Actually, I get books out of the library. I recently wanted to learn a little more about how you create a pattern that repeats over a large space. I went to the library and got books on pattern design—and that actually works really well for me. I think having something printed that I can hold and read, it's easier for me to learn that way. Just reading through those books and having my sketchbook right there and making that practice of working with that repeating pattern. I actually spent some time when we were in Portugal researching at some pattern museums in the city, and practiced making patterns there, too.
How do you choose which products and brands you work with?
When I'm researching a new product, I'm ordering tons of samples. I'm very picky, and I want everything to be a really high quality. I love paper, and that's one of the reasons transitioning from a designer into this stationary and home goods business made sense to me. I love the way paper feels, I love the way it smells, and I love its texture, so if I'm bringing on a new project that's paper-based, I'm ordering tons of samples I can actually feel, that I can test print with, and make sure when the ink lays on that paper, it lays beautifully, and that's going to last a really long time.
The same goes with the towels or any fiber goods I add to my line of products. I'm ordering those samples in and using them in my own kitchen and my own home. I want to make sure that a kitchen towel is really absorbent, that it releases stains really well, that the inks wash well, and that you don't have to do anything special with it. In addition to really loving quality, I'm really tough on things, so I like products to really hold up and last over time. I can't have a tea towel in my kitchen that I need to fuss over or wash specially. I'm always ordering samples and testing things out and making sure it fits not only my expectations for quality but my lifestyle in my home. I don't want to pick a towel because it's the first one I found, but that it's USA made, that it's sewn here in the states, that the fabrics and cotton are environmentally friendly — I think about all those aspects when I create a product.
All of the brands I work with have sort of grown through relationships. The printer I use for my greeting cards, I met through a friend of a friend. They're in Michigan, and I went out to their shop, and I sat and talked with them about what I was doing. I think, for me, it's that personal connection and understanding of what I'm passionate about and trying to create. I partner with someone who's passionate as well, who's not too large, and who wants to grow together and learn together. I'm not necessarily Googling or looking for anything online— I think a lot of the relationships that I have come out of meeting different people. I go to a lot of craft shows, whether I'm participating in them as Hazelmade or I'm just visiting as myself, and I'm meeting people and asking questions.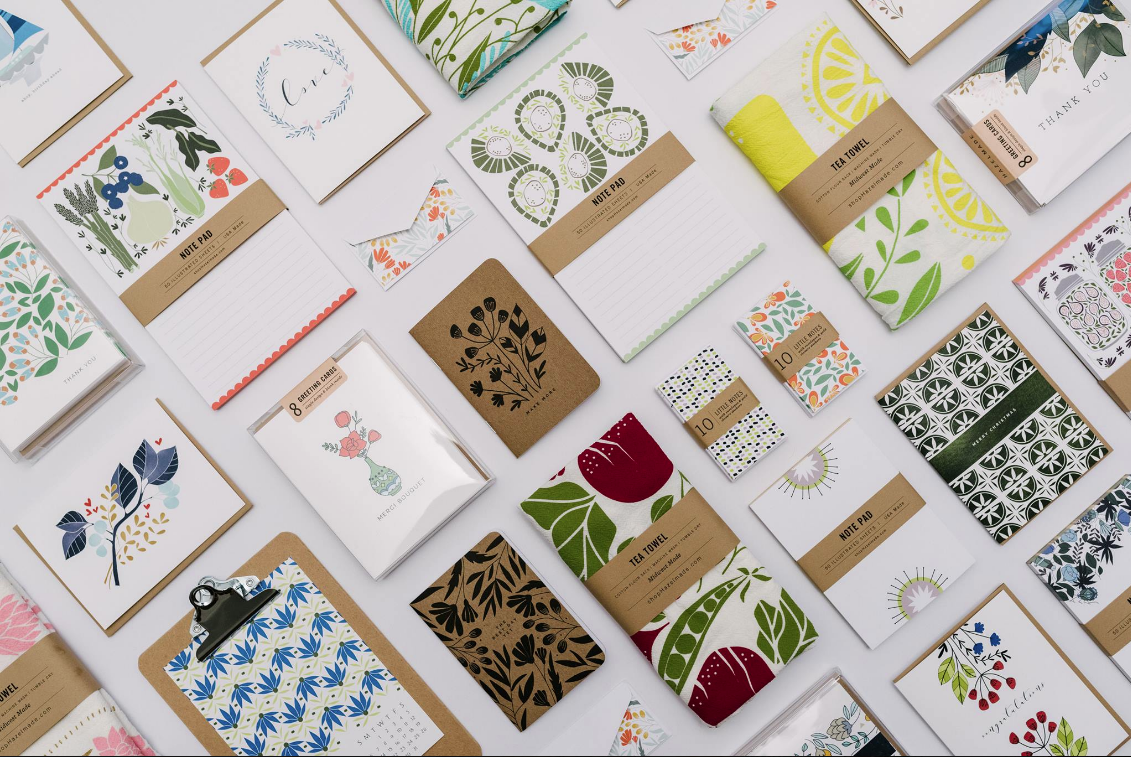 How do you use social media?
I mostly use Instagram, and I love it because it's all about photos. I partner with a wonderful photographer, and he takes great pictures for me. We work together to really illustrate through my photography how I want my products to be used and how I want them to be out in the world. I love Instagram because it's such an easy way for me to share what I imagine these products being outside of a product set on white backgrounds — what they would be like in the world. I also love Instagram because it's a way for me to share my travels. I mentioned that my husband and I love to travel — we try to go somewhere once a year — and I take my products with me because I'm often writing thank you notes for hosts that we have or sketching while I'm on these adventures, so I like using Instagram to share those photos as well.
The other side of that is Instagram is a great way for me to connect with my work all over the world. Recently, someone in New Zealand received some of my towels from a friend here in the states, and she posted a picture of these towels out on the other side of the world, enjoying them and loving them in her kitchen, so I like that Instagram helps me connect with people all over.
What types of accounts do you follow on Instagram?
I follow so many different accounts. I love following florists. One of my favorite things to draw is flowers, so I follow a lot of florists, wedding florists, floral shops, and gardeners as well. I also love to draw food, so I follow a lot of chefs and food bloggers and food journalists. And I like photography, so I follow a lot of photographers. That's not to say that I don't follow other stationary designers and artists, though. I definitely follow them too, but I like using Instagram less as a way to observe what others are creating and more to observe the things that I'm interested in drawing, like food, flowers, or travel.
How do you manage your time as a small business?
Time management is a huge component of what I do. I have been self employed for about 10 years. I took with me a lot of those skills that I learned just working as a graphic designer from home. You definitely need to have a routine that works for you. For me, it's really important that I wake up in the morning, and I actually leave my house, and then come back to start my work day. I usually just walk around the block, or I'll walk my husband to work, or grab a cup of coffee — just something to break that rhythm from being in your house as your home and transitioning back into your work space. I try to spend the morning creating (that's when I feel the most creative) so I'm sketching, refining something, and creating products more in the morning. In the afternoon, I like to spend time answering emails, catching up on invoices, and that sort of thing.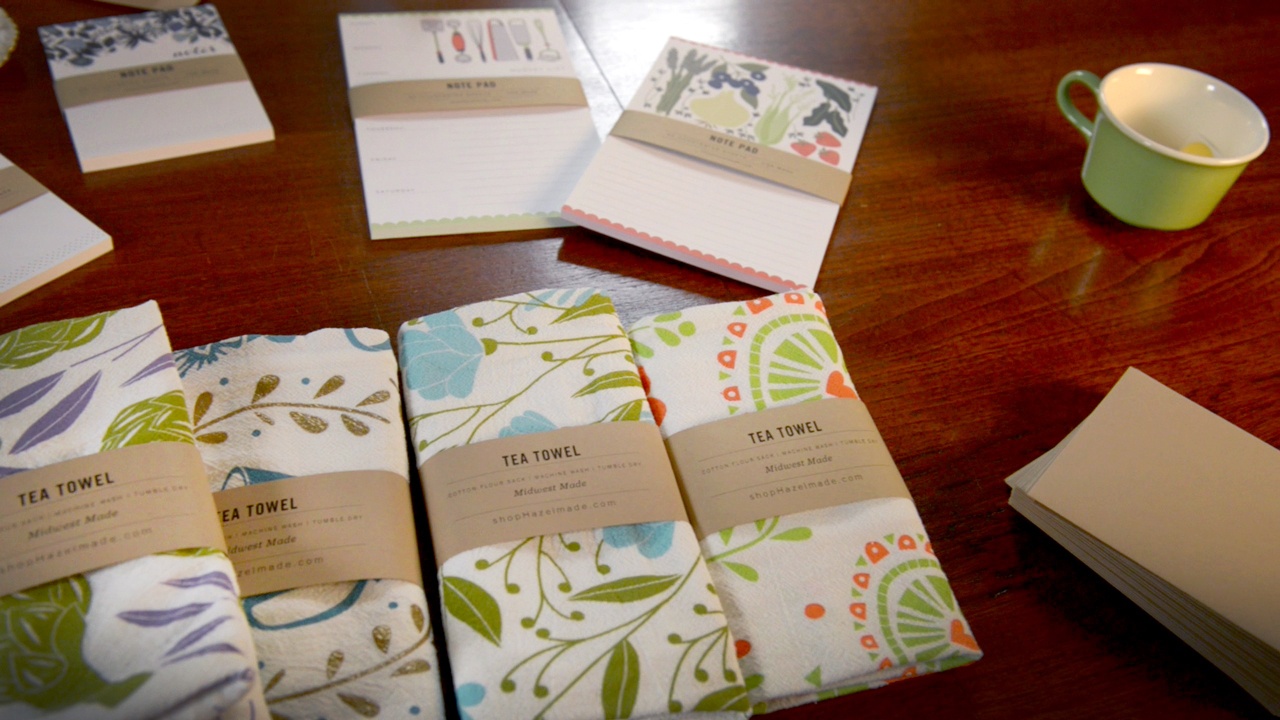 What challenges do you face on a normal day?
For me, the biggest challenge is how to grow, the choices that you make, and what you're ready for. For example, I just made this big leap to order more tea towels than I've ever ordered before, and that's really scary. I think the biggest part of that is realizing I'm going to go ahead and take that risk and put myself out there. You have all the information that says people are liking your towels, this is working out, but you realize you need to maybe take that next big step, and that's terrifying. It's terrifying because it costs a lot, or because you might end up with loads of tea towels you don't know what to do with. For me, taking a deep breath and getting over what that scary moment is, pushing through that, and putting yourself out there is probably the biggest challenge but also the best thing when it does work out.
What's the most rewarding part of what you do?
I think the best part about Hazelmade for me is that I get to create pieces that I really love that other people use to stay in touch with their loved ones. I create cards, towels, calendars — these are just objects and they're pieces I think are beautiful, but I send them out into the world, and people give them to their moms for their birthdays, or they send postcards to their friends or birthday cards, whatever it might be. I love that I get to be a part of that moment for them — to take that time, sit down, and write a letter to somebody, or to pick out a towel that you really love and gift that to someone. I love that I get to be a part of that.
What's coming up next for you?
So, I'm really excited about the growth that Hazelmade has had. People are excited about what I'm creating, I get to create more new artwork every day, I'm adding new products, and I'm really excited just to still be here doing this. I'm excited to be adding three new tea towel designs for next year, 2018. Typically, I just added one to two towels per year, but this year I'm taking the leap with three new designs — we have some jam jars, pickles, and avocados on the way in the designs. Also, I've added some little mini sketchbooks that have my illustrations on the outside, but they have blank pages for you to fill up with your own designs or writing. Also next year, I've actually reduced the number of cards I'm going to offer, and I'm going to try to sort of refine my greeting card collection to be more about the designs that I really connect with and really care about. I'll focus a little less on specific occasions and just make beautiful artwork that people can add whatever occasion they want to it.
Learn more about Susan and Hazelmade online: