Makers 1-on-1 is our original interview series featuring today's makers and DIYers. We're sitting down with new makers every week to learn more about their projects, how they acquire information, their purchase processes, and their passions.

This week, we're interviewing Guy Capito, a woodworker and custom furniture builder from Canton, OH who owns and operates Sawdust Puppy home decor. Guy's woodworking projects range from small signs and decor to massive adirondack chairs and dining tables. Guy uses electric power tools, saws, and joiners to put his projects together. If your brand sells to woodworkers, this 1-on-1 interview with Guy will give you some important insights into building connections with makers like him.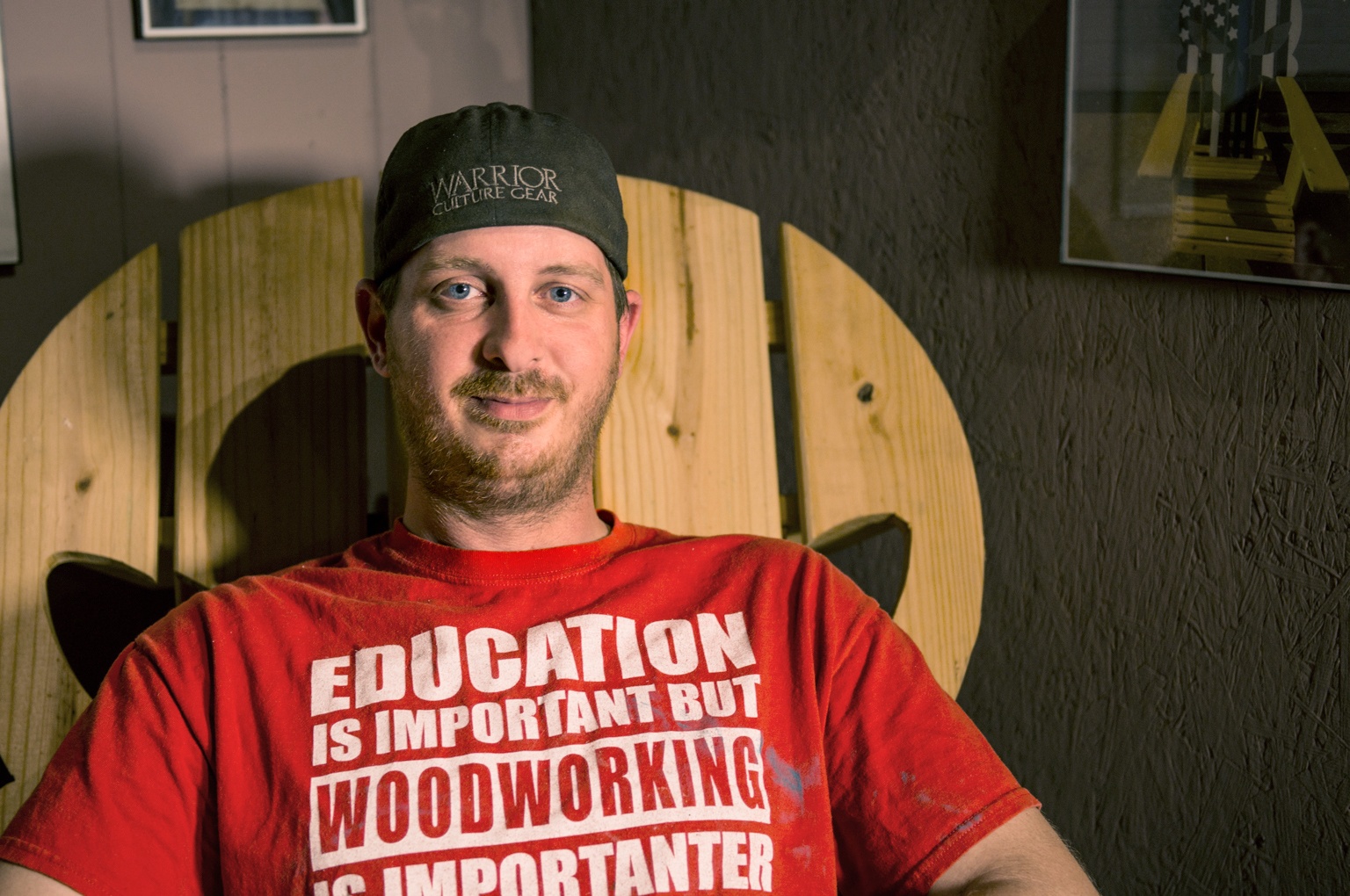 What's your name and what do you do?
My name is Guy, and I do all sorts of custom woodworking, home decor stuff, mostly from a pile of wood into a finished product. I'm not really into the whole repurposing thing, just full custom builds.
How long have you been woodworking?
Seriously, it's been about two and a half years now, but I've been out in the public eye for about a year and a half. But my grandpa was real big into woodworking, and we'd go down in the basement when we were kids, and he'd give us scrap wood and busted up nails, and we'd hammer those together. My uncle's a carpenter, so whenever he had house projects to do, we'd go over and help him with that. When my grandparents passed, I got some of my grandfather's saws, and it really took off from there. I took shop in high school, plus I learned from my family. A lot of it has been "Let's see if this will work" and then, "that can go in the pile of scrap wood and never see the light of day." I've learned what works and what doesn't.
How else do you research ways to get better at woodworking?
Sometimes I go to Youtube when I'm trying to figure out something crazy. I saw somebody took an old door and turned it into a table in a bar. I wanted to do that, and the cross beams they have on there, I wasn't sure how to do that, so I started perusing through woodworking videos on Youtube and gave that a look.
What materials and tools do you need?
Materials depend on the build. Some people want more expensive woods like oak and walnut, purple heart and that fun stuff. Other people want pine and your basic common woods, other people want pallets. I use glue, screws, and nails. Tool wise, I use a table saw, miter saw, circular saw, impact driver, nail guns, biscuit joiners, pretty much anything for woodworking. Going through my shop, there's a different tool everywhere you look.
What qualities do you look for in a product?
I like to use local when I can, but for some of the more exotic woods are hard to get locally because those trees don't grow here. I try to find the best material at a reasonable price because I am trying to make a little money on this, but if I get cheaper prices, I can sell for a lot less. I try to combine quality products with a good price.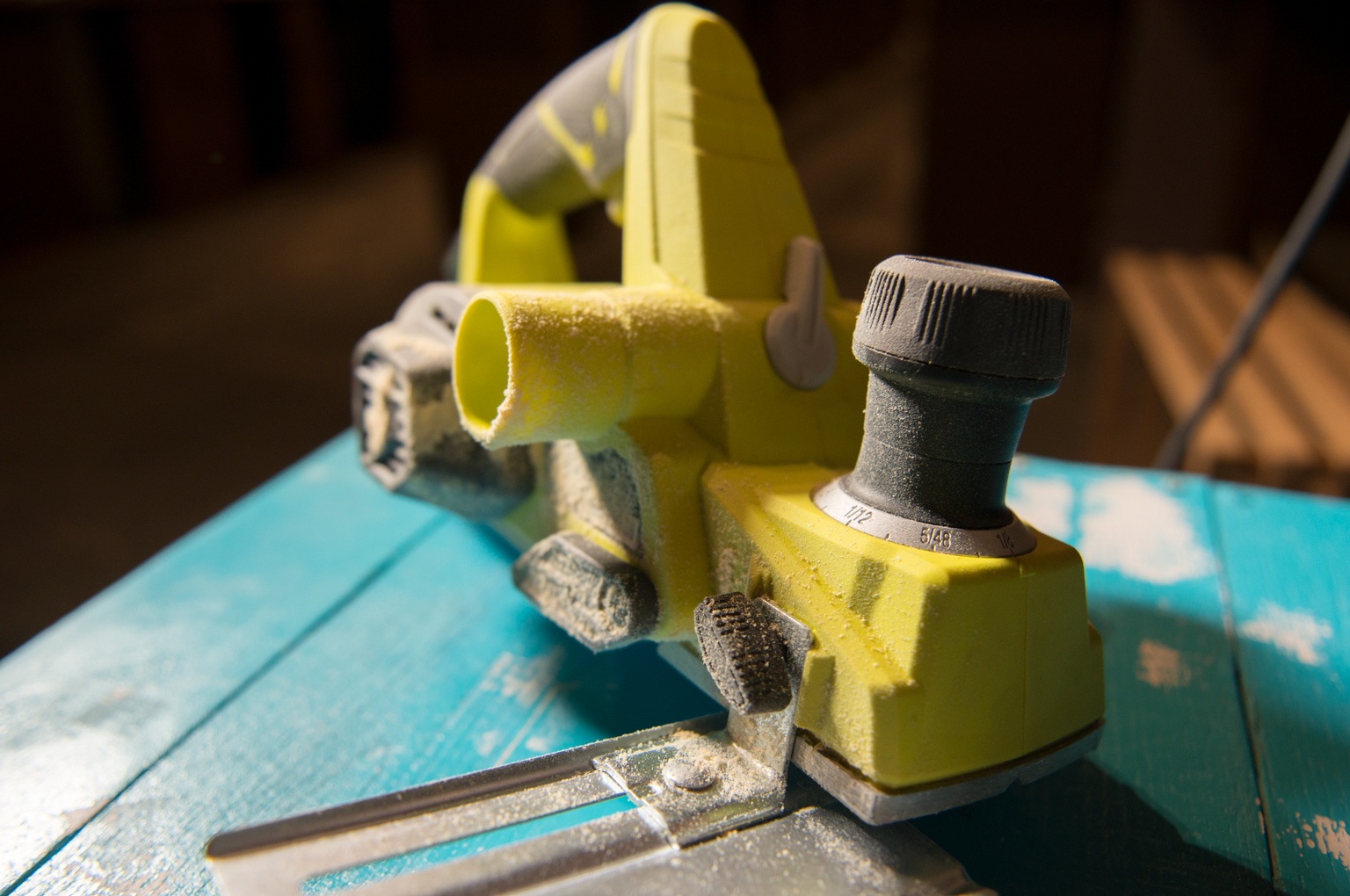 How do you develop relationships with the brands you use?
So much of what I do is project based, and I end up going to Home Depot, but there are a couple wood shops that deal with hardwoods, and I'll go to them too. If local places have a good selection, I'll get it from them and try to help out the local people too and not always go to big box stores. When you go in there randomly, it takes a little longer to develop that relationship, but over time it builds up to them recognizing me and asking about what I'm working on.
How do you combine your inspiration with a customer's idea for a custom product?
For a custom table I'm making, for example, a friend sent me a picture and asked if I could make something like it. I asked about how big, what kind of look, and all that. I found the finish she wanted, but I had to ask what kind of legs to put on it. I showed some different options and then figured out what's going to work best for them and their situation. Then also the pricing point of crazy farmhouse table legs because that's going to take a little more wood and a lot more time. It turned out she wanted something more basic. If somebody comes to me with something that's completely off the wall, sci-fi, never going to work in the real world, I'll let them know that's not gonna happen. We have to work around that to get you what you want.
What social media platforms do you use?
I use Facebook and Instagram mostly. Instagram especially with woodworking itself, the community is amazing. I have someone who follows me and that I interact with occasionally — he has over 10,000 followers, and he's coming to me and saying I do great work. When you have questions in woodworking, everyone's there to help each other. Everyone's trying to help each other, not playing the political game of, "I should be the only woodworker in the world and get all the work." It's a very supportive community on Instagram. As far as Facebook, I look at that as being for the local people that are going to be my customer base, to get info out to them and really tell people where I'm going to be and all that fun stuff.
How do balance the time you spend on projects?
So my full time job pays the bills, so when they need me there, I'm there. Depending on how I feel and the workload I have depends on how much time I go out to the shop and put in a few hours in the evening. Saturday and Sunday, I'll wake up sometimes at 8am and I'm out there until 9pm. Makes for a fun day. Some of those days when I'm out for like 12 hours, I'll forget to eat. The only thing that pulls me out of it is the dog barking inside. He also spends a lot of time out there with me. He has his own little bed out there. That's how I got the name Sawdust Puppy because he's laying in a pile of sawdust half the time.
What's the most rewarding part of woodworking?
Seeing the finished product. It goes from the pile of wood to the finished thing that people can see and use. Once I'm done and I can sit back and realize I did that, it was nothing before, and I created something from it. Also the big adirondack chairs, I've made 15 of them and they're still so much fun.
How else do you show off your work?
Depending on the month, I'll do many two or three different markets — going out, setting up, showing it off. I'm also showing my stuff in the store here, which is open 8-9 hours a day where everyone can come in and look at it.
How do you deal with problems and challenges?
My uncle is a carpenter, so I talk to him about challenges, and I talk to other woodworkers, and watch videos on YouTube. A lot of the time, I'll step back and start working on something different. I stop stressing over it, and let it stew in the back of my mind until I'm ready to look at it with a fresh set of eyes.
What's coming up next for you?
Nothing new that I haven't done in the past besides the giant, six foot table I'm working on. I've never made anything that big, but that will be done soon. I have some yoga mat holders I'm working on, and I'll be at a flea market this Saturday, and who knows what I'll get there. Some people might just buy whatever I have set up, or someone could come to me with a crazy custom idea from Pinterest. I'm hoping something cool comes out of that.
Learn more about Guy and Sawdust Puppy online: