Makers 1-on-1 is our original interview series featuring today's makers and DIYers. We're sitting down with new makers every week to learn more about their projects, how they acquire information, their purchase processes, and their passions.
This week, we're interviewing Brian Sullivan, who has been doing his own automotive DIY work since college. Brian always has automotive projects going in his garage, and his friends like to get involved, too. To ensure the success of his work, Brian chooses brands he trusts when looking for tools, aftermarket parts, and automotive paints. If your brand sells to automotive DIYers, this 1-on-1 interview with Brian will give you some important insights into reaching DIYers like him.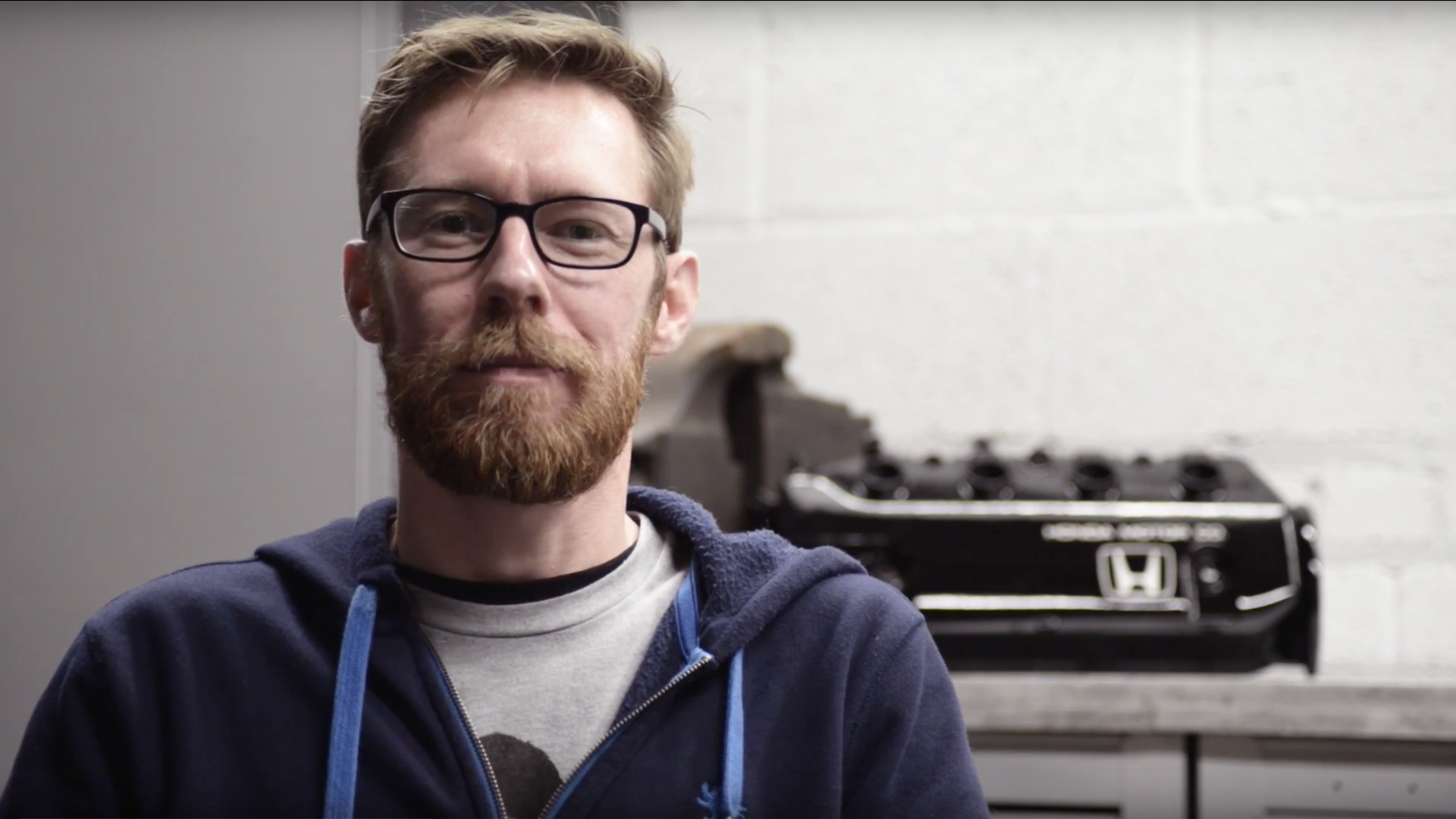 What's your name and what do you do?
My name is Brian, and I'm an automotive enthusiast.
How did you get started working on cars?
I started to work on my own car in college just as a way to save money. I went from simple repairs like oil changes to replacing engines and repainting cars. It's something you learn and something you can always use. I've got my own cars that I maintain and keep looking good, but if one of my friends have a car problem and they don't have the space to work on it, I tell them to bring it over and we work on that. It's a social thing too—a bunch of guys hanging out in a garage. There's always someone who needs work on their car—if not me, then someone I know.
What sorts of parts and materials do you have to buy to fix cars? How do you know which ones are best?
I use a wide variety of materials because I do a lot of different things. A big part of it is tools, but a lot of my tools were hand me downs from family but I'll buy new tools if I need to. As far as paint goes, I find that you get what you pay for. It's the same with the end result. Usually as far as materials go, what I usually need are the parts to fix the cars or improve the cars. Usually, I shop online for standard, off the shelf parts. It's easier anymore. If I get a brand that I'm happy with, I'll always go back to that brand. If I find one that doesn't work, I will avoid that brand in the future.
What kind of research goes into what you do?
I usually do my research first, and that involves going online and searching a forum or something like that to find out what I need for a project. Sometimes, I just ask around, too. Once I find out what I need I'll search around for a good brand for a good price and order from there. Everything you'd ever want to know is on Google, and now there are YouTube videos that have all kinds of demonstrations. That's usually my first go-to. As far as painting, I actually work with some people who taught me tips and tricks about that.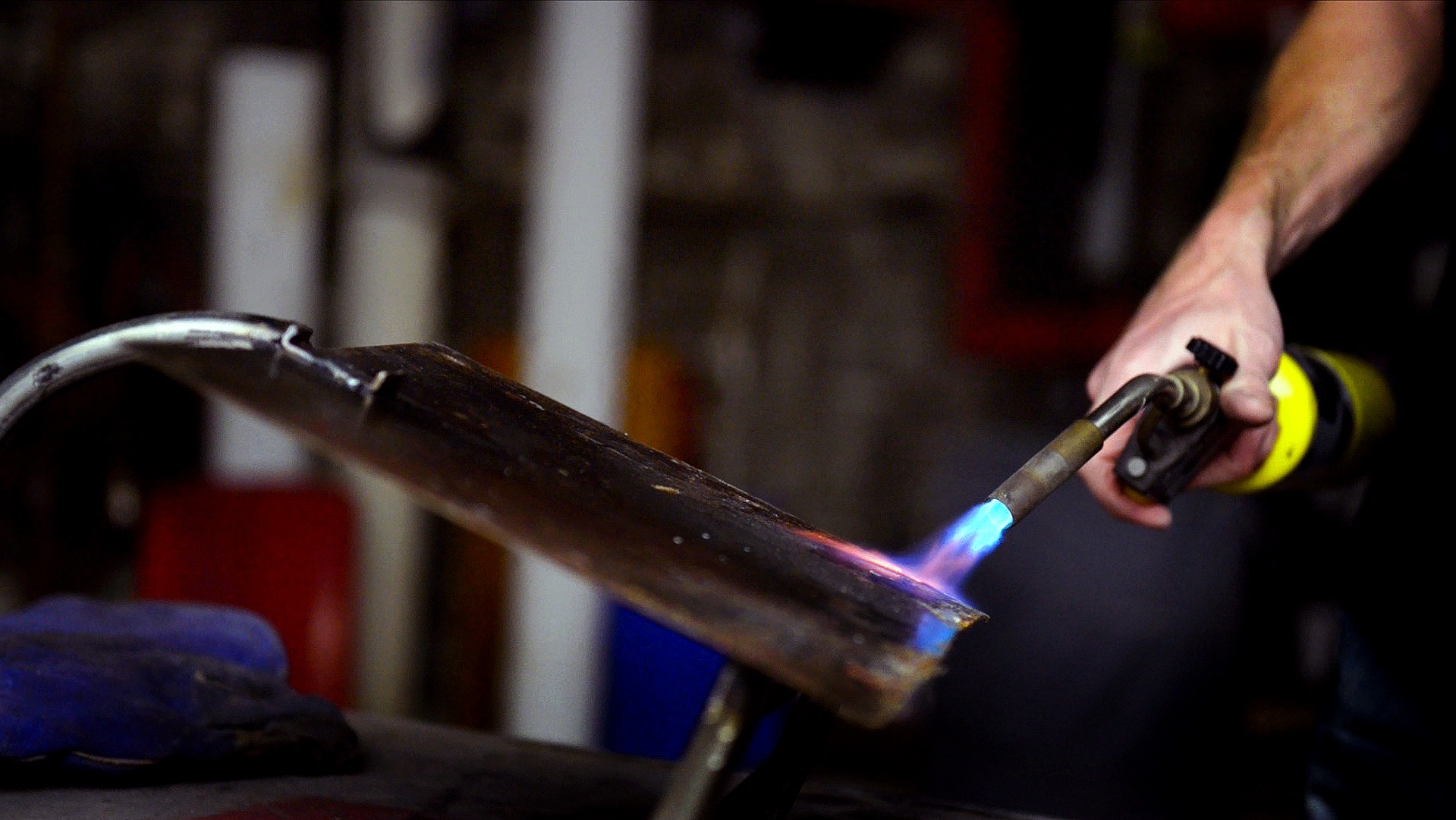 How much time do you put into each project?
It depends case by case, but it's more of a hobby thing to me. I do this on the side. I don't know if I'd want to do it full time; I might get tired of it then. But it's fun so in my spare time is when I work on cars, mostly. If I start a project and it's taking a while, I'll try to wrap it up just to move onto something else. I don't want to do the same thing all the time. My schedule is great because it's flexible, so I like to do car stuff in the evenings when I'm just at home and relaxing.
What's your favorite part of the process?
The paint is fun, but it's messy. I don't have a spray booth so I get overspray everywhere. So I'd say the medium mechanical stuff is what I like to do, just because you don't have to keep everything super clean; it doesn't matter if you get some dirt on stuff. There's light stuff like an oil change or tire rotation, then there's medium stuff like replacing a suspension or engine accessories. The bigger stuff would be doing a frame-off restoration or removing an engine, which I've done, but you need bigger tools for that stuff, which I usually end up borrowing because I don't have my own engine hoist. Or I've repaired a frame, and that was a long project, so I had half my garage tied up for a month. So my favorite is the middle ground stuff because it's faster.
What motivates you to keep fixing cars? Is it relaxing, a challenge, or both?
It's some of both. It's very relaxing to be in my own garage going at my own pace, just working on something in my spare time. I also like learning new things and learning how to rebuild new things or do a new process, and once you know that it's time to learn something else.
What kinds of problems come up for you?
A lot of times I won't have a certain tool for a certain car that I need, so I'll have to halt operations until I can get to the store or order one online. Sometimes, you get a part that doesn't fit quite right, especially when you have a car that may have been worked on previously or have parts from different years on it.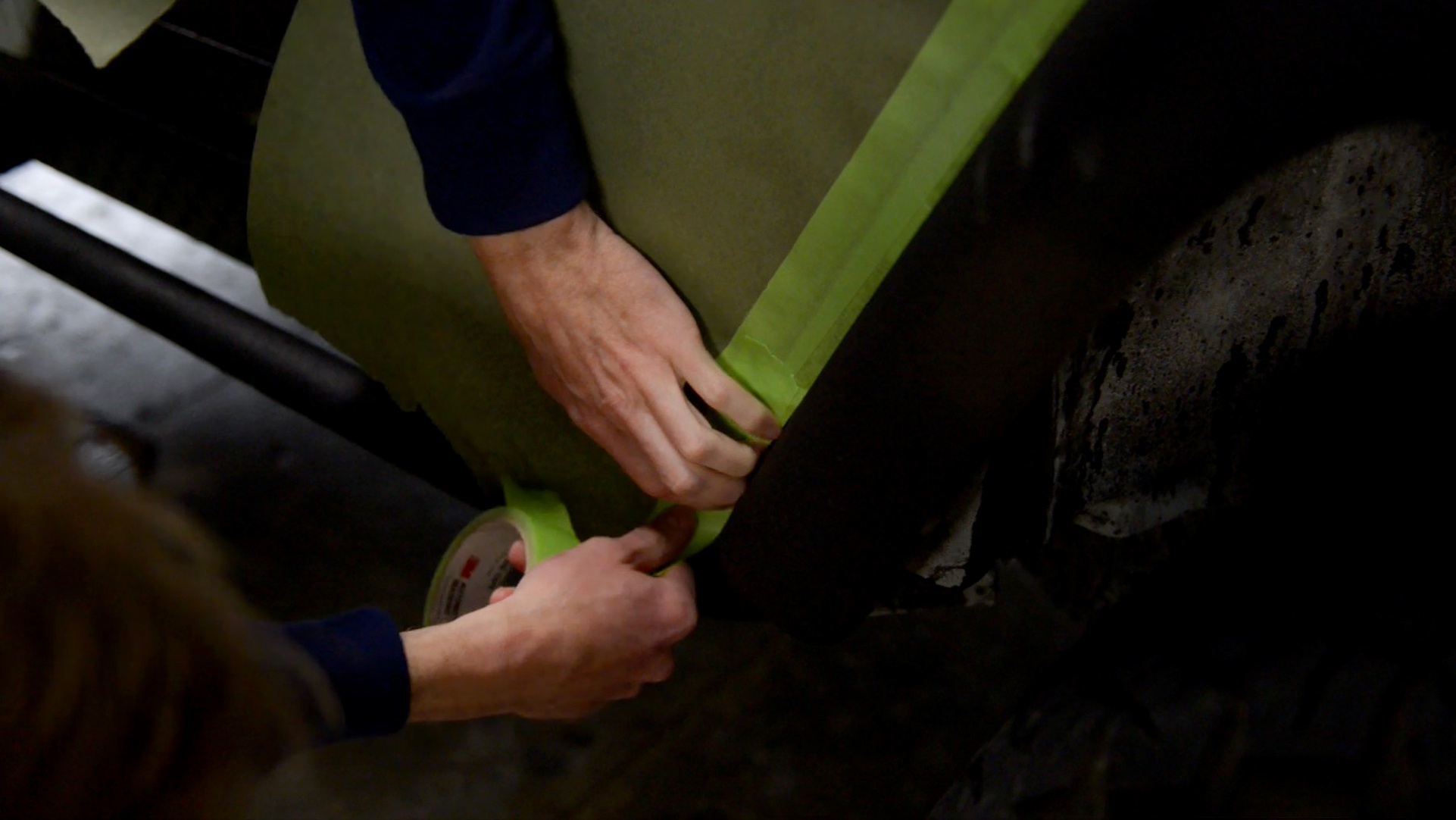 How do you experiment in your work?
Usually, I'll have a goal and stick with it, but if I get bored in my spare time, I'll wonder, "Will this work with this?" If I'm using a new product, especially if it's brand new on the market, it can be a challenge because you might be the first few people that have bought that part. I have ordered things before and found that they didn't work for my application, so that's frustrating. Sometimes I'll experiment with something to make it different than factory. For example, if I'm painting engine components or a valve cover, I'll go with a different color than original just to make it more customized and unique. The same goes with wheels. I like to refinish wheels, and sometimes instead of silver I'll go with a black or bronze or white just to mix it up a little bit.
Do you have a project that stands out in your mind as a particularly interesting one?
After I bought a house, I needed a truck because I was having to borrow one from a friend all the time, so I bought an '85 Toyota 4×4 and it became as much of a toy as a work vehicle. I got into off-roading and it got beat up a little bit, so I restored it and did wheels, a bed liner, paint. Now it's my baby. I still take it off-road but not as much as I once did. It's my pride and joy, and I like driving it the most out of all my vehicles. It's fun because it's built tough and I get a lot of compliments on it. I like having a vehicle that can take a beating and get through anything.
I go on forums at times. They've kind of died off since social media got big, but forums are still the best place to find good information. I belong to Facebook groups for the cars that I own, but Facebook can be basic posts like, "Here's a picture," but forums are good for technical info. I have a YouTube channel and an Instagram that I use sometimes. I post videos or photos of a repair I'm doing. I've got about 2,000 followers right now, so it's fun to share what I do and teach people how to work on their own cars. My friends and I like to share what we're working on.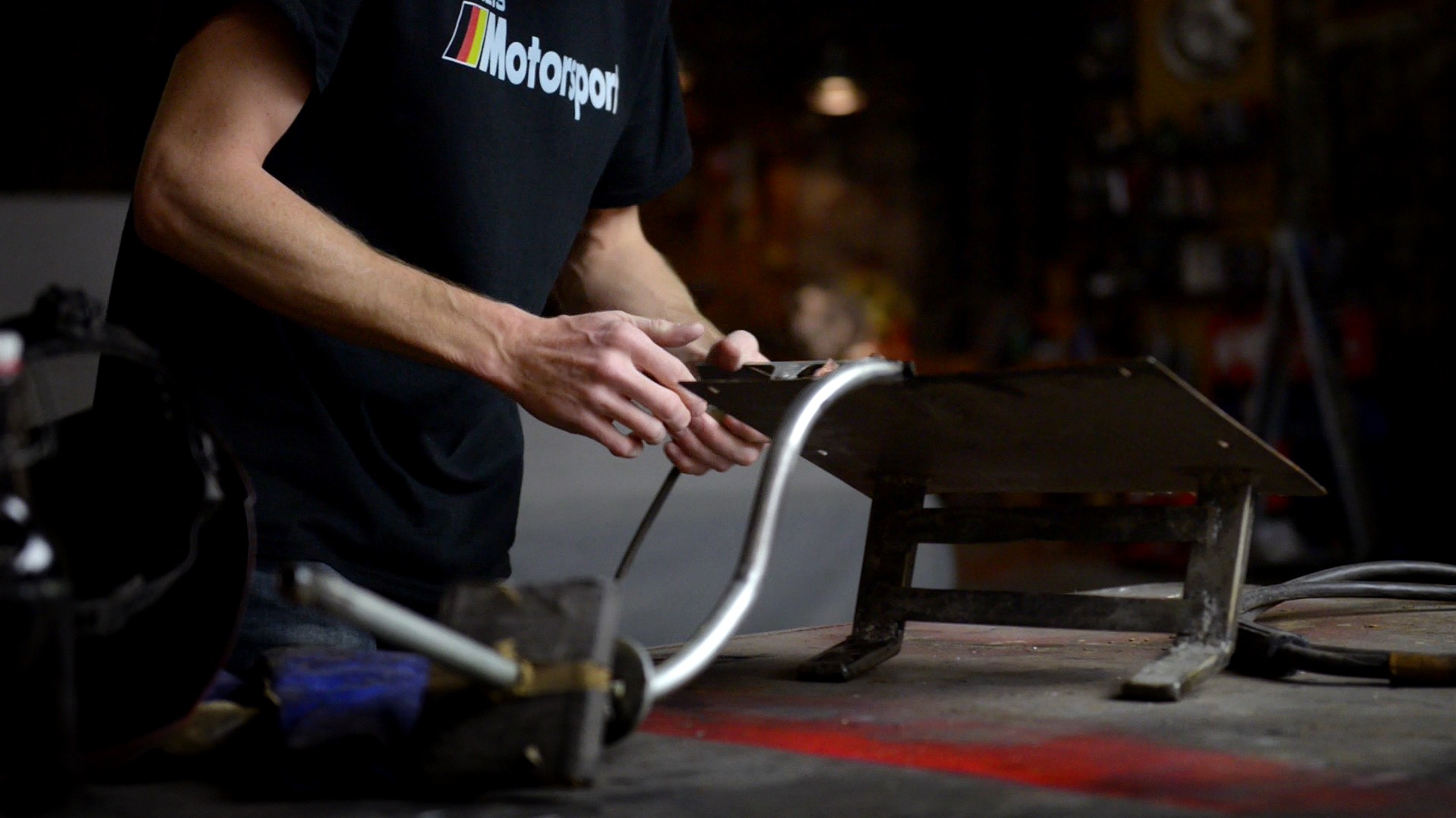 How else do you show off your work?
Obviously, the rewarding part of finishing a project is taking it out and driving it around, so I get to enjoy it that way as well as show it to people. Then through YouTube and social media and posting in forums online, I found a good way to get my work out there. But more or less, it's for me. I like to build things that way I like them.
Why do you love what you do?
I guess there are a few reasons. One, because I like being in the garage. A guy's garage is his own space, and nobody comes in and says, "Clean this up" or "This would look better over here." It's nice to have my own area to hang out. Sometimes my friends come over and we might say we're doing work but we're actually having fun. Second, because you save a lot of money doing things yourself. That's why I started back in college and I learned how to do my own work. I've rarely had to go to a repair shop or a dealership in 15+ years, so that's really nice.