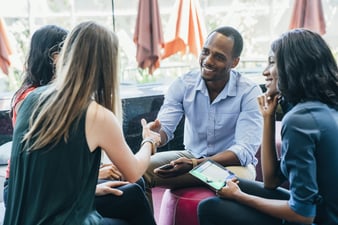 We write a lot on this blog about the "Maker Movement": the idea that access to information, tools, and resources "puts power in the hands of the people to fund, design, prototype, produce, manufacture, distribute, market, and sell their own goods." To truly be called a movement, it takes a community working towards the same goal - and we've definitely seen that this is the case with makers. Almost every single maker we've gotten to know says that they need a network of like-minded people who understand what they're going through to support them.
Makers, in our experience, are much more successful when they have connections to bounce ideas off of and to ask for help.
But how do makers network in order to create these valuable connections? Of course, there are thousands of circumstances under which people can meet and exchange ideas, but we're going to discuss the three most common ways makers meet and share information. Additionally, we'll share our best advice for how your brand can become part of those conversations makers are having with their network. Keep reading to find out how.
Where Do Makers Network?
Maker Online Communities
A huge portion of maker networking today happens online. Every niche is represented somewhere online, and connections can be made between both local makers and ones across the globe. The beauty of social media is that makers can join discussions that already exist or they can start their own to serve a specific purpose or mission (Facebook groups and hashtags are just some of the ways these discussions pick up visibility and traction).
However, if your brand is interested in what's going on in these online communities, it's also worth checking if your target maker segment uses any niche networking sites in addition to the bigger platforms. For example, Ravelry is an online network just for knit and crochet makers, and other makers still participate in various forums and message boards.
The draw of connecting with other makers online is the ease of access to both new discussions as well as backlogs of information available. If a maker is in the middle of a project and needs a question answered, online communities are a great resource where others can either craft answers of their own or point in the direction of helpful content or products instantly.
Maker Events and Craft Shows
While online connections are common and convenient, maker networking also takes place in person at maker events and craft shows. These public events do double duty for makers who seel their work: they allow makers to show off their products to potential customers, but at the same time, they also foster conversations among the makers themselves. Most makers that attend the same events live in the same area, which makes it easy to develop friendships that begin during the long days tending their booths and tables.
Becuase they're already in a creative setting where atendees understand the value of handcrafted work, it's easy for makers to "talk shop" and work out shared challenges. Makers tell us that a lot of the people they follow on social media are other makers they met at craft shows and whose work they admire. These friendships can even be interdisciplinary — as in, makers from different industries can form meaningful connections based on mutual experiences and admiration.
Maker Clubs and Organizations
Finally, some makers seek out network connections by joining a club or organization related to their craft. These clubs usually have regular meetings to address common topics and issues in the industry. Most clubs welcome makers of all experience levels and actually dedicated to the education of their members. A lot of their meeting time is spent teaching new skills and techniques through workshops and demonstrations. This shared expertise creates trusting connections between members of the group, who can reach out for more help later on as well. Additionally, many of these groups have an online presence as well, and some distribute content like newsletters or offer access to exclusive resources.
How Your Brand Can Be Part of Maker Networking
Keeping in mind that while we've only described some of the most common modes of maker networking, you should also know that it's possible for your brand to become part of the networks that exist among makers in your target industry. The key to entering these networking discussions is that your brand must come across in a genuine and organic way. It's easier said than done, but with a little effort, it's absolutely possible.
What we know for sure is that makers are talking to each other all the time. They ask each other for advice and put a lot of trust into the recomendations of others who maker similar things. When your customers become real fans and advocators of your brand, you'll come up in those conversations. There are a lot of pieces in that puzzle: you have to have a great product, first of all, but innovating the customer experience around that product is also a critical component. To get makers really excited about your brand and willing to recommend it, your brand has to add value to their process in a variety of ways. If you're looking to enter a network in an organic way, consider the power of an enthusiastc introduction from someone who is already a member of the group.
Finally, and perhaps most importantly, you must remember not to make your participation in these networks all about you. If your brand is only concerned with rattling off all the things that make your products and service so great, you won't come across as having a genuine interest in entering the maker's network. Instead, use your voice and expertise to provide helpful advice and resources to the makers you wish to reach by focusing on their problems and needs. That's a great way to build the trust in your brand as a valuable partner, which can ultimately lead to a purchase. By truly understanding your target maker industry, you can become a valued partner to the maker community that remains top-of-mind.