Modern ceramicists, like potters and sculptors, have figured out how to bring the ancient art of pottery into today's culture with the help of creative designs and innovative tools and products. Another way they've pushed the craft forward in recent years? By learning from both brands and each other through social media.
Like many other maker segments, ceramicists have been empowered and inspired by social media to both start and continue crafting with clay. Platforms like Facebook, Instagram, and Pinterest have become some of the community's preferred methods of sharing their expertise and supporting each other. But what are the most common (and important) types of interactions they're getting involved in online?
In this post, we'll list some of the ways ceramicists on social media are connecting with others as well as give your brand some tips for getting involved, too.
How Today's Ceramicists and Potters Connect on Social Media
They share their own work. As you might imagine, posting photos and updates on their social feeds is one of the most common ways ceramicists begin to create connections on social media. Some might be posting their pottery in hopes of reaching potential buyers, others might share their work through social channels in hopes of finding other artists with similar styles or simply in order to publicize their passion and pride for their work.

While this is one way most makers (and in many ways, all of us) use social media, there's one caveat to note when it comes to ceramics: in-progress shots of projects are a bit fewer and farther between. Pottery is a relatively messy craft that requires both of your hands as well as some delicate concentration. Unless a ceramicist has someone else to help them out (and many do), it's much harder for them to take a break mid-process to snap some pictures or write a post on their experience. They're much more likely to share their finished pieces, often in lifestyle settings that show their practical uses and features their design and aesthetics.


They discover new trends and inspiration. On the other hand, when they're not in the middle of throwing a pot or glazing a vase, plenty of ceramicists will spend some time browsing their own social feeds or exploring relevant hashtags to see what other makers are creating and what tools and products they might be using. Just checking out what posts and pictures others have to offer is a huge source of inspiration for modern potters and sculptors, as anything they see might spark a new project idea--whether it's directly related to ceramics or not. Seeing travel photos, interesting architecture, or even other works of art can be just as inspiring to these artists of form as examples of other ceramics. Connecting with other makers and brands online can also help makers stay updated on new products that could potentially make a difference in their future work. By keeping up with their contemporaries, ceramicists are able to stay updated on their industry.


They start conversations with other makers. Finally, ceramicists value the connections they make through giving and receiving feedback on social media. Direct messages, commenting, and even sharing or reposting other content allows ceramicists of all kinds to make their voice heard in the community as well as converse with others on topics that matter to them. The more personal these connections, through continued support, admiration, or education, the stronger and more valuable they become in the eyes of the maker. Sometimes, makers can get answers to their craft-related questions and share the advice they wished they'd known sooner, but other times, it's as simple as knowing they're not alone in their passion and that others understand and appreciate the work they're doing.
How Your Brand Can Get Involved with the Ceramics Community Online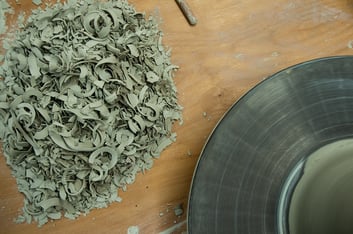 When your brand is ready to get involved on social media, there are a few key best practices to remember. First, it's important to remember one factor that we mentioned above: most ceramicists aren't browsing social media during the crafting process. More than likely, they're scrolling for inspiration in their downtime and researching for information on products and industry news before and after they tackle their pieces. Knowing these tendencies might influence the type of content you choose to produce.
Next, if you're not sure what platform to start with when creating your content strategy, Instagram is probably your safest bet. Instagram tends to host the largest communities of most maker segments due to its image-based, short-form nature. Ceramicists are no different; they love how quick and easy it is to scroll through Instagram and send comments or messages instantly. However, you'll need to truly invest in the quality of your imagery. Makers in the ceramics segment obviously have an eye for form and design, and if your Instagram feed doesn't at least have some aesthetic quality to it, it's more likely that makers will pass it over.
And finally, our best tip is to be genuine in every interaction with ceramicists in order to truly build connections that benefit both your brand and the makers who follow you. By sharing your expertise in an altruistic way, instead of focusing only on selling products, you can establish your expert power and become a trusted advisor that makers are more likely to return to when they are ready to buy. Show the same kind of support that their fellow makers would, and prove that you understand their needs and challenges in order to build trust and recognition. By working in accordance to their existing social patterns, your brand has the potential to become an integrated part of your audience's online (and offline) experience.