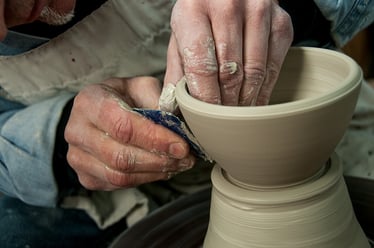 With the expansion of so many craft segments through classes, online resources, and materials available today, even those art forms that used to be considered advanced and expensive are much more accessible than ever before. At least partially thanks to the Maker Movement, perhaps one of the most booming craft segments is made up of pottery and ceramics.
While makers of all skill levels line up for pottery classes at the nearest gallery or workshop, your brand can form connections with this passionate craft community. Here's what you need to know about ceramics and pottery making in order to reach out today's makers.
What Are Ceramics?
Ceramics (or pottery making) is the art of creating objects from clay, whether it be earthenware, stoneware, or porcelain. Ceramicists and potters use a variety of techniques to mold clay into functional objects and pieces of art, including sculpting, modeling, throwing, painting, glazing, and firing in a kiln or oven. Here are some examples of popular ceramic and pottery making techniques and applications:
Wheel throwing: "Throwing" in ceramics refers to the use of a flat, spinning wheel to rotate a piece of clay while the potter shapes or carves the clay using their hands or special clay tools. (Throwing ceramics after they're finished is much more likely to result in a smashed project.) Throwing is commonly used to make table or housewares like plates, bowls, vases, and more.
Handbuilding: Handbuilding is the technique of molding a clay project without the use of a throwing wheel. Handbuilding can be done using three techniques: the pinch method, the coil method, or the slab method.
Sculpture: Clay sculpture (or modeling) is the art of making three-dimensional objects from clay. Sculpting can range from the expert fine arts to children's crafts.
Tile making: Tile making is a form of slab forming where a ceramicist carves designs into flat tiles used for flooring, paving, or decoration.
Jewelry making: The sculpting and painting of clay beads can also be incorporated into jewelry making and a mixed-media project.
Why Ceramics Are So Popular in 2018
In many ways, the rise of ceramics and pottery making mimics the rise of the Maker Movement as a whole: it's a way to unplug from a fast-paced, digital society and do something slow, creative, and one-of-a-kind with your hands. The subjective nature of ceramics rejects the mass-produced market because no two crafters can throw the exact same piece. It's a craft with a learning curve that takes a lot of deliberate choices and practice that resonate as therapeutic with new and experienced potters alike.
Particularly, the increase of both craftwork and perfected home decorating shared on Instagram have been a huge influencing factor in the rise of today's ceramicist community. Whether the style is clean and minimal or colorful and eclectic, new makers are often inspired to pick up the craft based on the projects and interiors they see on the social platform. And once they're ready to dive in, there's no shortage of ceramics workshops to be found, though waiting lists are fuller than ever. Veteran ceramic artists are reporting huge booms of interest in their workshops, and new studios are popping up across the country to accommodate all the aspiring ceramic makers. It all goes to show that making is truly valued in today's culture, and even when it comes to more complex arts like pottery, people are excited to give it a try.