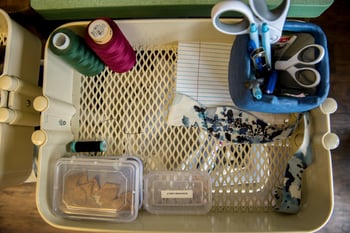 The Maker Movement continues to empower people of all walks of life to learn, develop, and/or sell numerous types of crafts and products. With more access to information and products than ever, it just takes a critical leap for anyone to get started crafting today. Today's we're investigating the motivating situations that compel today's crafters to pick up (or get serious) about a craft they love.
While there are millions of reasons for becoming a crafter today, we've compiled a list of the most common motivations we've learned from our Maker Files interview series. Keep reading to find out why crafters do what they do.
Common Motivations for Becoming a Crafter Today
They love the creative process. First and foremost, crafters have told us that regardless of any other factor or benefit associated with crafting, they actually love the physical work that they do. Imagining and designing new projects is exciting to them, and they love to get their hands dirty. For some, art or crafting became a hobby or business in a later phase of their life, like Karen from Uncommon Art, while for others, it was a creative alternative to the 9-5, like Sarah from Sarah Harste Weaving, who is motivated by the opportunity to be her own boss. No matter when they got started, the top motivator for becoming a crafter seems to be a pure love of crafting something beautiful or useful that wasn't there before.


They couldn't find the product they wanted, so they decided to make it themselves. When Theresa of Thread + Love wanted her daughter to have a more natural doll that wasn't mass-produced, she did the research and learned how to sew her own dolls. Plenty of today's crafters follow a similar path, taking the production of the items they want in their homes into their own hands. Sometimes, a desire for a customized look and feel is what they're after, and other times it's all about the materials and practices that go into the object. Either way, there's a level of personal comfort and control that motivates crafters to put together projects exactly the way they'd want them (and sometimes they pick up like-minded fans and customers along the way).


Working with their hands is an escape from daily stress/a digital life. For many, crafting started out as a hobby intended to be not only enjoyable but also a distraction or de-stressing tool. Tori of Little Birdie Design Studio says, "I wanted something to take my mind off of being a graphic designer and being on the computer all the time. I needed something to veg out with and that's where knitting came in." Crafts are great for those looking for an activity that's equal parts relaxing and challenging.


And sometimes, they save money in the process. While it's not usually the deciding factor, and they still have to buy tools, materials, and products to help them, many crafters site that they were drawn to the idea of crafting in order to save money. Micah from Neck & Tie Co. says, "I was always trying to be innovative if I didn't have the money to buy something. I could either make it myself or find out a way to get it." He altered some ties for himself, never knowing it'd turn into a full-time business.
No matter what a crafter's motivation is, or whether its on our list or not, one thing is for certain: crafters are passionate about the work they do. And we know for sure that every crafter is different (but you can learn more about the demographics of today's crafters in our recent blog post). They have to put in the time, resources, and dedication to make a craft that they believe in; if they wanted to do things the easy way, they'd buy someone else's work instead of making their own. However, to crafters, there's something intrinsically special about creating something with their own hands in a way that no one else can imitate.